Orlando Car Accident Lawyer
Compassionate Orlando Car Accident Lawyer Fights for the Rights of Clients Injured by Negligent Drivers in Orange County and Throughout Florida
While car accidents can seem like an everyday occurrence, when you are involved in a crash it can completely upend your life. You may suffer serious physical injuries that leave you with financial struggles from medical bills and lost wages due to missed work. And you may also have to face long-term consequences from disabilities or scarring/disfigurement. An Orlando car accident lawyer can help you recover compensation when another driver or party caused the crash due to their negligence.
If you have been injured in a car crash that was caused by another driver's or other party's negligence or legal fault, get the legal help you need to seek compensation for your expenses and losses. Reach out to Feingold & Posner, P.A. for a free initial case evaluation to learn more about what our firm can do to assist you through the process of pursuing financial recovery from those at fault for your injuries. Our attorneys can meet with you to discuss the details of your claim and help you understand what to expect throughout your case, and will thoroughly investigate and pursue your options for legal action. 
Types of Car Accident Cases We Handle
At Feingold & Posner, P.A., an Orlando car accident lawyer can assist you with pursuing a claim for compensation when you have a case arising from:
Aggressive driving accidents
Distracted driving and driving-while-texting accidents
Intoxicated driving accidents
Defective cars or auto parts
Personal injury protection claims
Uninsured motorist claims
Underinsured motorist claims
Orlando Car Accident Statistics
According to the Florida Department of Highway Safety and Motor Vehicles, in Orange County, there were an average of 28,927 motor vehicle accidents per year over the period of 2018 through 2020. These accidents resulted in an annual average of 21,772 injuries and 175 fatalities. In addition, there were an average of 15,085 motor vehicle accidents that resulted only in property damage. 
Of the crashes that occurred in Orange County from 2018 through 2020, an average of 283 crashes per year were confirmed to involve alcohol, while another 32 crashes had confirmed drug involvement, and 21 crashes were confirmed to involve both alcohol and drugs. 
Big thanks to Eric and Doug for doing a great job with the handing of my auto accident. I highly recommend them!
Common Causes of Car Accidents in Orlando
Many car accidents in Orlando are attributable to driver error or negligence. Some of the most common causes of car crashes include:
Speeding
Reckless driving, including racing, excessive speeding, or weaving in and out of traffic
Tailgating
Running red lights/stop signs and disregarding other traffic controls
Unsafe turns or lane changes, including failing to signal or check mirrors and blind spots
Failure to yield the right of way
Drunk and/or drugged driving
Drowsy or fatigued driving
Distracted driving, including texting while driving, eating or drinking, or adjusting the radio/climate controls/navigation system
Inexperienced drivers
Unfamiliarity with local roads
Deferring of vehicle maintenance
In addition to driver error, car accidents may also be caused by design or manufacturing defects in a car or in an auto part used in a car, especially tires, brakes, and transmission parts.
Finally, car accidents may also be caused by external factors, such as poor visibility from adverse weather or low lighting, or poor road conditions such as potholes, broken pavement, or debris on the roadway.
What Compensation Might You Be Entitled to If You've Been Involved in a Car Accident?
After you have been involved in a car crash, let an Orlando car accident lawyer from Feingold & Posner, P.A. fight for a full financial recovery for you that includes money for:
Repair bills for damage to your vehicle, or the cash value of your car if it is declared totaled following the accident
Medical bills and expenses for any treatment or rehabilitation you need for injuries
Costs for long-term care for permanent disabilities that result from your car accident injuries, including costs of home health services or home renovations to install disability accommodations
Loss of income if you are temporarily disabled from work or need to take time off work to recover from injuries
Loss of future earnings and employment benefits if you are permanently disabled from returning to work
Physical pain and emotional distress
Steps to Take after Being in a Car Accident in Orlando
To best protect your rights to pursue a claim for compensation after a car accident, you should try to take the following steps:
Seek medical attention as soon as possible after the accident to have a doctor examine you for any injuries you may have sustained in the crash
Do not put off any recommended treatment or rehabilitation or your doctor's other treatment instructions
Keep copies of medical or vehicle repair bills or invoices or any other records of expenses you incurred due to the accident
Find your pay stubs or tax returns to document your lost wages if you miss time from or cannot return to work
Avoid discussing the accident or your case on social media, especially when you are still treating or rehabilitating injuries you suffered in the crash
Finally, make time to speak with an Orlando car accident lawyer from Feingold & Posner, P.A. as soon as you can to get our firm started on preparing your claim so that we can timely pursue your rights. 
Let an Orlando Car Accident Lawyer from Feingold & Posner, P.A. Pursue a Full Financial Recovery for You
When your time and energy are focused on your recovery from injuries you suffered in an Orlando car accident, turn to Feingold & Posner, P.A. to handle all the details of preparing and pursuing your claims for compensation, including:
Conducting an investigation into the accident to secure all available evidence from the crash
Identifying the at-fault driver or other parties and options for compensation, such as applicable insurance coverages
Documenting your injuries and past and ongoing expenses, as well as calculating future anticipated losses from your injuries or disabilities
Filing your claims with the insurance companies and liable parties and pursuing negotiations to try to reach a settlement that pays you fair compensation
Going to trial when necessary to demand the financial recovery you deserve in your case
Areas We Serve in the Greater Orlando Area
The attorneys at Feingold & Posner, P.A. are dedicated to representing victims of negligence throughout Florida. We have successfully handled all types of car accident claims in the Orlando metropolitan area including cases involving speeding accidents, drunk driving accidents, distracted driving accidents, negligent driver accidents, and more. The areas we serve in Greater Orlando, Metro Orlando include:
Alafaya
Altamonte Springs
Apopka
Azalea Park
Buenaventura Lakes
Casselberry
Clermont
Celebration
Conway
DeBary
Deltona
Doctor Phillips
Eustis
Fairview Shores
Four Corners
Goldenrod
Horizon West
Hunter's Creek
Lake Butler
Lake Mary
Lockhart
Longwood
Maitland
Meadow Woods
Mount Dora
Oak Ridge
Ocoee
Oviedo
Pine Castle
Pine Hills
Poinciana
Saint Cloud
Southchase
Tavares
University
Wekiva Springs
Winter Garden
Winter Park
Winter Springs
And more…
Contact Us Today for a Free Consultation to Go Over Your Rights with an Orlando Car Accident Lawyer from Our Firm
After you have been involved in a car crash, don't wait to speak to an experienced attorney about your right for pursuing a legal claim. Contact Feingold & Posner, P.A. today for a free, no-obligation case review to discuss your options for seeking compensation with an Orlando car accident lawyer from our legal team. 
About Orlando, FL
Orlando is a city located in Orange County, Florida, and is the county seat of Orange County. Orlando is Florida's fourth-largest city and the center of the state's third-largest metropolitan area, behind the Miami and Tampa metro areas. Orlando is one of the most visited cities in the world due to the metro area being home to several internationally-famous theme parks, including the Walt Disney World Resort, the Universal Orlando Resort, and SeaWorld. Orlando has been a popular resort area for much of its history, although the region began experiencing explosive growth following the construction of Disney World in the 1960s. Today, Orlando has developed a thriving central business district in its downtown area, which is surrounded by historic districts containing neighborhoods stretching back over a century. 
Frequently Asked Questions about Car Accidents in Orlando
How long do I have to file a lawsuit after a car accident in Orlando?
Under Florida's statute of limitations on car accident claims, you typically have four years from the date of a car crash to file a lawsuit against the driver or other party responsible for the accident. In limited circumstances, you may have a longer period to file suit, so an Orlando car accident lawyer from Feingold & Posner, P.A. can advise you as to when you may need to file a lawsuit to continue your case. If you don't file suit before the expiration of the limitations period on your claim, your lawsuit will likely be dismissed by the trial court and you will lose the opportunity to recover compensation from those at fault for the accident and your injuries.
What are my rights if the driver who caused the accident doesn't have insurance?
If you were injured in a car accident where the responsible driver doesn't have auto liability insurance, you may still have options to recover compensation. First, you can turn to your own auto insurance policy for compensation for your medical bills and lost wages under the personal injury protection coverage in your policy. If your PIP coverage cannot cover all your losses from a car accident, you may also have the option of filing a claim with your auto insurer if you have purchased uninsured motorist coverage in your policy.
How much does an Orlando car accident lawyer cost?
At Feingold & Posner, P.A., we represent clients on a contingency fee basis. This means our firm is paid only if we recover compensation for you in a settlement or by winning your case at trial. We receive a percentage of the total compensation we are able to secure for you in your case. If we can't recover compensation for you, we don't get paid. That way, you won't need to worry about finding the money to pay a lawyer when you are already dealing with financial pressure from medical bills and lost wages.
Do I need an Orlando car accident lawyer if I want to accept the insurance company's offer?
You should always let an experienced attorney review any settlement offer the insurance company makes you before you accept it. Although you may need a quick settlement to provide money for your medical expenses and lost wages, you will want to consult with an Orlando car accident lawyer about the true value of your claim. If you accept a settlement and later discover that you have suffered other injuries or if you incur additional losses due to the accident, you will not be able to demand more compensation from the insurance company. An attorney can advise you as to whether a settlement provides fair compensation in your case or whether our firm can negotiate on your behalf to obtain a better offer.
Will my case go to trial?
No attorney can predict at the outset of a car accident claim if your case will end up going to trial. Certain factors can impact whether your case becomes more likely to head to trial, including the severity of your injuries, the extent of the losses that you have suffered, and whether liability or share of fault is at issue. Our firm will aggressively pursue fair compensation for you in a settlement if that is your preference, but we will honestly advise you when we believe that going to court or to trial is your best option for obtaining a full financial recovery.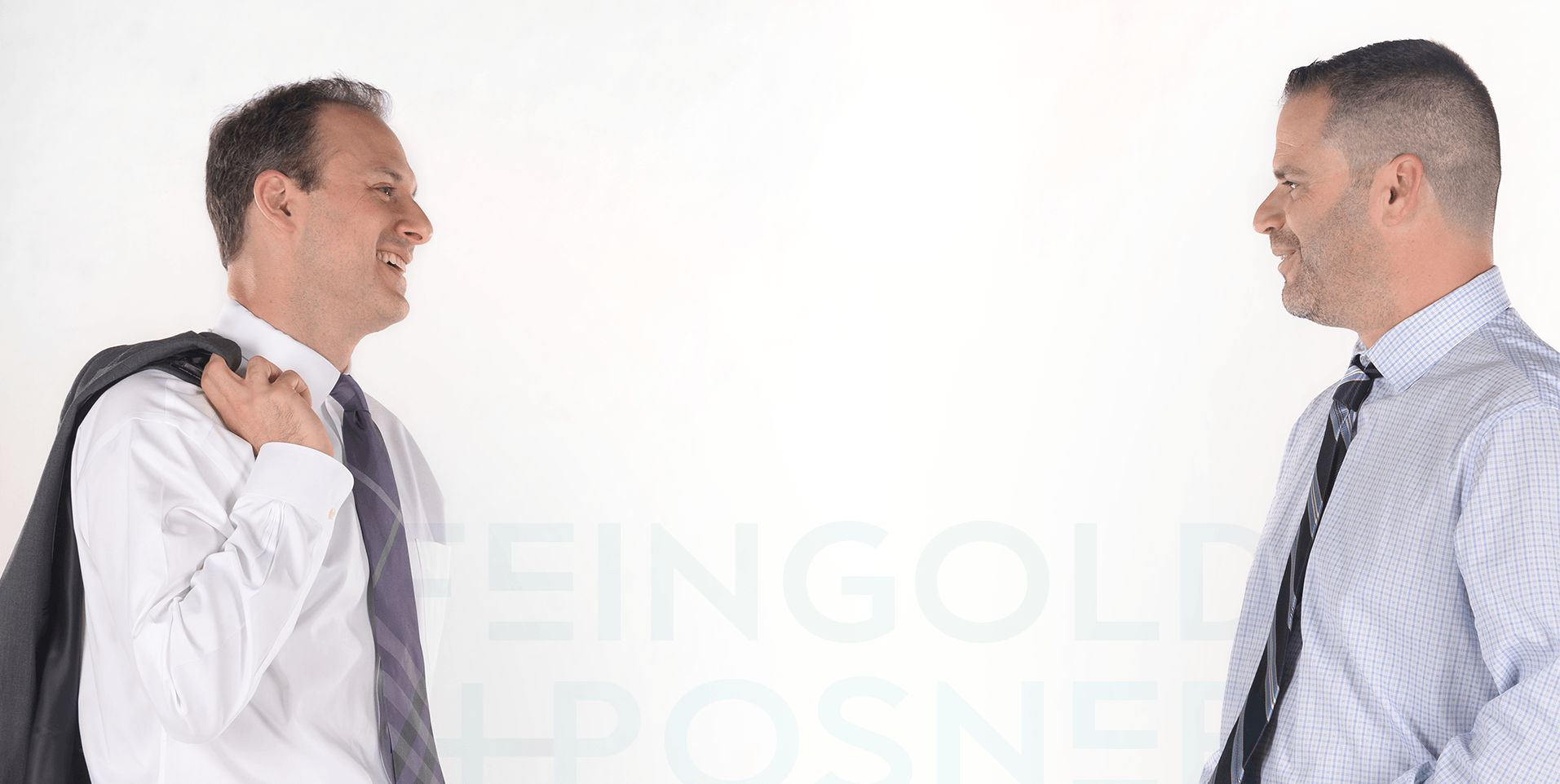 "These lawyers are not only very efficient, but caring as well. I would not hesitate to refer them to anyone."
MATTHEW T. / FORMER CLIENT