Plantation Traumatic Brain Injury Lawyer
Seasoned Plantation Traumatic Brain Injury Lawyer Aggressively Seeks Financial Recovery for Clients Who Suffered Head Trauma
Many different accidents result in head trauma, and such trauma can cause damage to your delicate brain tissue. Tissue damage can also result from a violent jolt of your head, skull fractures, oxygen deprivation, and other conditions. No matter what causes tissue damage, the result can always be serious. Accidents that impact your head can cause a traumatic brain injury (TBI), which is an injury that uniquely affects each victim. This is a complicated and difficult-to-understand injury that people can feel effects of for weeks, months, years, or even the rest of their lives. Many TBIs occur due to the negligence of others, and those parties should be liable for all of the many losses victims experience. If you have this type of catastrophic injury, you want an experienced Plantation traumatic brain injury lawyer from Feingold & Posner on your side.
CONTACT us today for a free case evaluation from a Plantation traumatic brain injury lawyer as soon as possible.
Risks of TBIs in South Florida
The South Florida area has so much to do, and the recreation comes with the risk of injuries. Even everyday activities like commuting to work present a risk of a car crash and a traumatic brain injury (TBI).
Some specific risks in the Plantation area include:
Water park accidents
Slip and falls in Publix or Winn-Dixie
Accidents on Broward County Transit buses
Bicycle crashes
Scooter accidents
Assaults at a Florida Panthers game
Falling down stairs at a hotel
Escalator accident at Broward Mall
Any of the above could result in a blow to the head and a traumatic brain injury. One second you could be shopping, and the next, you are on your way to Plantation General Hospital.
No matter how a brain injury happens, always have a lawyer assess whether another party might be liable. This could be another driver, a business, an employer of the at-fault person, a manufacturing company, and more. It is critical to have a Plantation TBI lawyer identify your rights since the losses from a traumatic brain injury can be so extensive.
Medical Treatment for Your Brain Injury
Traumatic brain injuries are serious conditions that need medical treatment as soon as possible.
Some signs that you might need help for a TBI include:
Confusion
Unconsciousness, even for a few seconds
Memory loss
Headaches
Outbursts and irritability
Sleep disturbances
If you notice any signs of a brain injury in the hours or days following an accident, do not wait to get a medical diagnosis.
Once a doctor diagnoses your traumatic brain injury, they will base your treatment plan on the severity of your injury. It is important to note that even brain injuries labeled as "mild" based on the initial symptoms can be serious injuries with chronic effects.
Treatment for brain injuries can range from resting at home to surgery to months in a rehabilitation center. Some people make a full recovery, while others have permanent impairments from brain damage.
Common impairments that can persist despite medical treatment include:
Cognitive impairments, possibly affecting communication, reading, information processing, and memory
Behavioral issues, including personality changes, anger, and lack of emotional control
Physical disabilities, possibly affecting sensory abilities, coordination, balance, speech, and more
All of these can require ongoing occupational, physical, or psychological therapy. Medical bills can be overwhelming, and the party who caused your TBI should be responsible for covering your past and future treatment costs.
Personal injury attorneys Craig Posner and Eric Feingold are both excellent attorneys, but more importantly, they are excellent people. I have seen first hand their hard work and dedication to clients. I would not hesitate to recommend their services to others.
Other Effects of Brain Injuries
In addition to medical bills, other losses stem from a TBI. In many cases, a brain injury will prevent someone from working, at least while they recover. If a victim has permanent impairments, they might need to get a lower-paying job or stop working altogether. If a brain injury affects your career and earning abilities in any way, you can seek compensation for your past and future lost earnings and benefits.
This can be a more complicated situation when the victim of the TBI is a child. A brain injury can have a greater impact on a child since their brains are still developing. A TBI can cause a child to struggle with comprehension and other skills, which can negatively affect their academic performance. This can change the trajectory of their educational and professional paths, possibly resulting in lifelong losses.
In addition to financial losses, brain injuries can also cause pain and suffering for victims. Victims might have physical pain in the form of chronic headaches, migraines, or seizures. They also might experience psychological suffering and need ongoing mental health assistance. The law allows victims to seek compensation for non-economic damages like pain and suffering in addition to economic losses.
Some losses from TBIs are easier to prove than others, and you need an attorney who knows how to value and prove your non-economic damages. This ensures that you seek the full value of your claim from the insurance company.
Determining Liability for Your Brain Injury
To seek compensation, you need to identify which parties should have to pay for your losses. This can require an investigation into the cause of the accident, as well as the application of complex legal principles.
Some liable parties might include:
Drivers
Employers of commercial drivers
Store owners
School districts
Product manufacturers
Government entities
We can determine all parties with liability to maximize the possible compensation for your losses. Then, we file the proper insurance claims and work to negotiate a favorable settlement offer from the insurance company. If needed, we can escalate your case to civil court and file a personal injury lawsuit.
Speak With Our Plantation Brain Injury Attorneys Today
If you or someone you love suffered a TBI in an accident, you might seek compensation for all of your losses. This is a complicated process, and you need Feingold & Posner Accident Injury Lawyers on your side. Contact us at 954-807-4665 to learn how our Plantation brain injury lawyers can assist you.
Plantation Traumatic Brain Injury FAQs
The aftermath of a serious accident and injury can be a confusing time, and it is normal to be unsure of your rights or what to do. The following are some common questions our brain injury attorneys at Feingold & Posner Accident Injury Lawyers answer for potential clients. To discuss your specific situation, reach out directly for a consultation.
How Do I Get Compensation Following a Brain Injury?
You might know that someone else was responsible for your traumatic brain injury, though you should never expect another party to voluntarily pay you for your losses. Instead, you need to take legal action to seek the compensation that you deserve. The first step of this process is generally to file an insurance claim. The type of claim you file depends on what caused your TBI, and you might pursue:
— No-fault auto insurance claim with your PIP coverage if your brain injury is relatively minor
— Auto insurance claim against another driver who caused the crash for severe injuries
— Property insurance claim against homeowners who allowed dangerous property hazards that led to your TBI
— Business insurance claims against corporations that allowed dangerous conditions or sold defective products that caused your brain injury
No matter what type of claim you have to file, you want the help of a legal professional who handles injury claims. All types of insurers can be difficult to deal with, and we can advocate for the compensation you deserve.
How Much Do I Deserve for My Traumatic Brain Injury Claim?
If you have a brain injury, you know how difficult your struggles and losses are. However, it can be difficult for an insurance company to acknowledge the full extent of your injury-related effects. Instead, the insurer might make an offer that is far below the amount you requested for your damages.

The problem is that many TBI victims have little idea what their claims are worth, which might lead them to accept a lowball offer. This leaves them with uncovered losses that they will need to pay themselves. Always make sure that you have an experienced Plantation brain injury attorney valuing your claim so that you do not accept an unfairly low amount.

Our attorneys cannot tell you how much your claim is worth without examining the details of your case – specifically, the extent of your losses and the potential for future losses. We consider many types of damages for:
— Past and future medical expenses
— Past and future lost earnings
— Physical pain and suffering
— Mental trauma and PTSD
— Loss of enjoyment of life
— Permanent disabilities

Proving the value of your claim is more difficult than you might imagine, so always seek legal help before you accept any amount of compensation.
Why Might the Insurance Company Delay or Deny My Claim?
When you are experiencing ongoing losses from a TBI, you might expect an insurance company to take your claim seriously and process it as quickly as possible to help you. However, the company might cause unnecessary delays or wrongfully deny your claim altogether.

There are many reasons why an insurance adjuster might delay processing your claim. Often, they hope that you will get tired of waiting and simply accept the first offer they make. When you watch your bills piling up with no action from the insurer, it can be tempting to get funds as quickly as possible. Do not fall for these tricks and, instead, contact our legal team for help. Insurers might deny valid brain injury claims for different reasons:
— Claiming that your brain injury was not a result of the accident in question
— Denying their policyholder is liable for your injury
— Stating the coverage does not apply to the accident in question

Sometimes, you will need to provide additional evidence and documentation to combat the reason for the denial. In other situations, the denial is the result of bad faith insurance practices, and you might need an attorney to file a lawsuit to get the insurer to overturn the denial.
How Do I Find the Right Plantation Brain Injury Attorney?
When you are struggling with daily tasks due to a brain injury, knowing which lawyer is the right one can be challenging. How do you know who you can trust to handle your claim with care?

First, find out if anyone you know recently had an injury claim and if they were happy with the lawyer they hired. Be careful that these recommendations are for serious injury claims, as you do not want an estate planning or divorce attorney handling your claim. Similarly, some injury lawyers only handle minor cases that they can settle quickly, and your brain injury claim is not a minor case.

If you are searching online, make sure the lawyer's website indicates that they handle brain injury cases stemming from your type of accident. If a lawyer only handles car accident claims, and you suffered injuries in a fall, you might want to keep looking.

Finally, schedule initial consultations with the lawyers on your shortlist. These consultations should be free of charge, and the lawyer should assess whether you have a valid claim and answer all of your questions. If you are comfortable with a lawyer's communication style, do not hesitate to move forward with your case by hiring that law firm.
How Can I Afford to Pay an Attorney?
You might be hesitant to reach out to an injury lawyer because you know you have no way to pay costly legal fees. However, our traumatic brain injury firm does not charge large retainers to hire us—or charge anything at all upfront. If we take your case, we do so on a contingency basis. This means that our success depends on yours.

We charge nothing until your case resolves. Then, if you do not receive any compensation, we receive no fees. If your claim is successful, then our fees come from your settlement or award—never from your pocket. This makes it so anyone who suffered a brain injury can afford to have the representation that they need.
Contact A Plantation Traumatic Brain Injury Lawyer Today
Feingold & Posner Accident Injury Lawyers
1380 N University Dr Suite 100,
Plantation, FL 33322
Phone: 954-807-4665
Online Form: Contact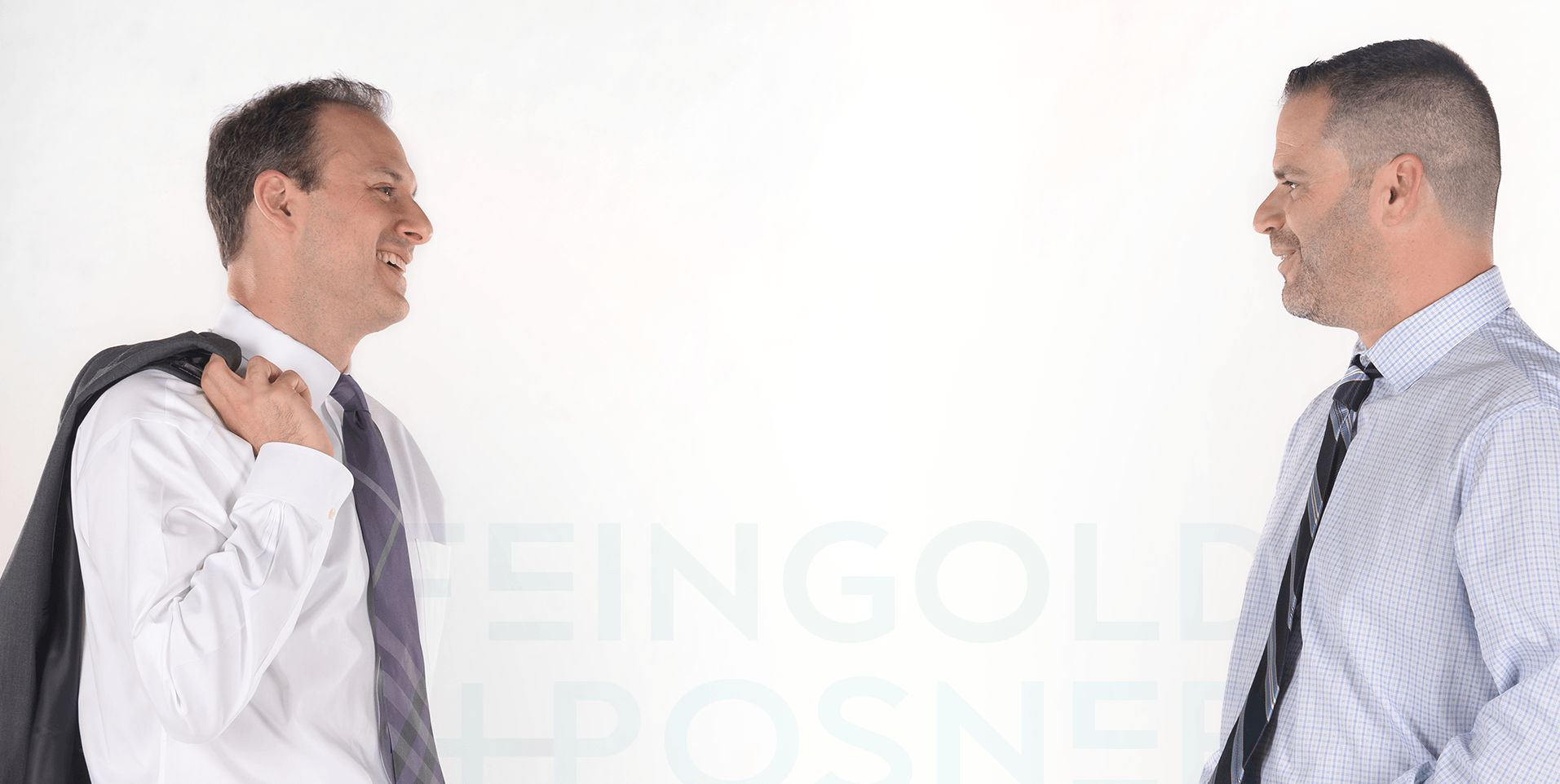 "These lawyers are not only very efficient, but caring as well. I would not hesitate to refer them to anyone."
MATTHEW T. / FORMER CLIENT