Plantation Mass Tort Lawyer
Compassionate Plantation Mass Tort Attorneys Pursues Recovery and Justice for Injured Clients
Mass torts generate their share of news headlines. For the most part, these are heavily publicized injuries about which the public knows. In many of these cases, it is not uncommon for there to be hundreds or thousands of plaintiffs. Mass tort lawsuits have unique characteristics. These cases are usually intense legal battles because the defendant may view the lawsuits as "bet the company" litigation. If they lose, it can result in a significant financial hit that can mean bankruptcy. You want a skilled Plantation mass tort lawyer on your side.
This is why you need an attorney with specific experience in mass torts, like ours at Feingold & Posner Accident Injury Lawyers. We know how these claims work and can guide yours to the best conclusion possible, whether you're taking on 3M, Roundup, Philips, or any other giant corporation whose product or actions injured you.
The Definition of Mass Torts and Examples
By definition, mass torts involve many different plaintiffs filing a lawsuit against one defendant or a small group of defendants. Usually, this involves one pattern of facts, where the defendant's actions injure a large number of people. Each of these injured people has a legal right to file a lawsuit against the responsible party for damages.
Here are some examples of mass torts:
Airline or transportation accidents
Defective products that lead to product liability lawsuits that allege defects in the design, manufacture, or marketing of the product
Mass exposure to toxic substances from accidents such as oil spills or gas leaks
Lawsuits against insurance companies for mass disaster claims – even though insurance companies are not responsible for the disaster, they may fail to pay out claims from policyholders
Major Mass Tort Cases
Many major mass tort cases in recent years have led to large verdicts and settlements and have dominated the news.
These include:
The Johnson & Johnson talcum powder mass tort litigation in which the company was found responsible to victims of cancer-causing baby powder
The Deepwater Horizon litigation in which British Petroleum was found responsible for the massive Gulf of Mexico oil spill
The Roundup products liability litigation in which Bayer settled over 100,000 cases that alleged that its weed killer causes cancer
The asbestos mesothelioma litigation which involved claims against scores of defendants for exposing their employees to the deadly element that causes mesothelioma and other cancers
Litigation against tobacco companies for selling cigarettes to the public that they knew to be addictive and cause cancer
Each of these cases involved billions of dollars of damages and claims by many thousands of injured people (both physical and property injury). These cases took years and resulted in large total payouts for wide-scale damages.
The Right Legal Help to Win a Mass Tort Lawsuit
Even though these cases are far larger than the average lawsuit, the legal principle is the same as any personal injury case (even a relatively straightforward slip and fall). To recover financial compensation, your attorney must prove that the defendant was negligent.
The test of negligence in a mass torts case is:
The defendant owed you a duty of care
They breached the duty of care by acting unreasonably under the circumstances
You suffered an injury
You would not have suffered injuries had it not been for the actions of the defendant
Mass Tort Litigation Can Be Contentious
Defendants may face billions of dollars in liability in the biggest mass tort cases. For this reason, they will have aggressive and sharp lawyers from some of the nation's top law firms at their disposal. However, even highly pedigreed lawyers cannot obscure the clear law. If the defendant is legally responsible for your injuries, they will need to pay you financial compensation.
However, getting to this point can require a lengthy and contentious legal process where your lawyer will go toe-to-toe with big corporations and their lawyers. Many of these battles happen early in the process when the defendants are trying to limit the scope of the case and keep you from getting the evidence that you need to prove your case.
This is why discovery is such an important part of mass tort cases. An aggressive Plantation mass tort lawyer can put pressure on the defendant during discovery to get the information that you need to win. Discovery leads to the evidence that you can use at trial. In some cases, plaintiffs will get their hands on damning internal memos or other information that shows the defendant's negligence or recklessness.
Why Mass Torts Are More Complex Than the Average Case
In general, mass tort claims are more complex than car accidents or slips and falls. Here, you deal with many plaintiffs (perhaps hundreds of thousands), each trying to get their own settlement or award to pay them back. On the other side, you have one defendant that will do everything possible to protect themselves. You may also have an insurance company that is trying to write out as small of a check that they can. There can even be issues with the amount of insurance coverage (for example, whether the facts that give rise to liability count as only one accident).
As you can see, you need a lawyer who can work through many issues.
Ways to File a Lawsuit in a Mass Tort Case
Even the form that your lawsuit may take can be subject to a complicated procedure.
There are three different ways to litigate mass tort cases, and as a plaintiff, you do not always get to pick how you proceed:
Class action lawsuits – Mass torts can be handled as a class-action lawsuit. There are very strict requirements to bring a class-action lawsuit. These are common lawsuits where each of the plaintiffs has suffered the same harm. Class representatives will make decisions on behalf of all of the plaintiffs. You have the right to opt out of the class and file your own lawsuit.
Multidistrict litigation – These cases involve many different individual lawsuits that proceed with each other right up until the time that the cases go to trial. They share discovery but try their own cases in separate trials. It is possible for one plaintiff to win their own MDL case and another to lose. In each MDL, a handful of bellwether cases will get tried first to give each of the parties a sense of how a jury views the claims.
Individual tort claims – There are some mass torts where the court may deny the motion to certify the class or have the case proceed as an MDL. This does not take away your right to sue, but it means that you have to proceed alone.
Whether you can proceed with other plaintiffs can often make the difference in whether your case is successful. This is why the motion for an MDL or to certify a class is often a make-or-break part of your case.
These lawyers are not only very efficient, but caring as well. I would not hesitate to refer them to anyone.
Why You Can Benefit From Mass Tort Litigation
In some cases, it makes sense to join together with others because you can build the strongest case. Numbers can help lead to efficiencies. This is why defendants usually do everything they can to oppose class certifications or requests for multidistrict litigation. They want the plaintiff class proceeding separately because they think that it will only make them weaker. However, there are advantages to proceeding in common with other injured plaintiffs.
They include:
More resources devoted to obtaining information in discovery in the most effective way possible
Taking advantage of the collective power of legal arguments that can be developed and employed across cases
Less individual work required to obtain recovery
One large lawsuit can drive change that can prevent the company from acting the same way again
Many Mass Tort Claims Will Lead to a Settlement
Some mass tort claims will end up in a global settlement. This does not usually happen right off the bat. In most cases, the defendant will try to have the case dismissed or fight in court through the initial trials. For these defendants, it is all about managing their legal risk. If they lose the initial trials, they may try to negotiate a settlement because they are facing massive legal liability.
In other cases, defendants may recognize the gravity of the situation that they face, and they do not want to face a jury at all. They may try to negotiate a quick settlement of the case because it can save them money. In this case, you need an attorney to look after your interests.
Damages in a Mass Tort Case
In any mass tort case, you deserve to receive the same damages as any personal injury plaintiff.
These include:
Payment for past and future medical bills
Lost wages for any time that you missed for work (or any reduction in earnings capacity)
Pain and suffering
Emotional distress
Loss of enjoyment of life
If your loved one died from their injuries, the family can file a wrongful death lawsuit. Florida law specifies who may file this lawsuit. The surviving spouse is the person who can file the lawsuit. If there is no spouse, then the surviving children may file the claim.
Your mass tort lawyer must assess your individual case and the compensation that you deserve. Even after a mass tort case settles, you have a choice whether to accept a global settlement if it is part of multidistrict litigation. You are not obligated to accept it, and you can still proceed with your lawsuit.
Call Us Today To Schedule A Free Mass Torts Consultation
954-807-4665
How Settlements Work in Mass Tort Cases
A global settlement does not mean that every plaintiff gets the same amount of money. Instead, the process considers the individual facts of your case. For example, the severity of the injury and the plaintiff's life before the accident are factors that should come into play. The life and health of a 25-year old may be worth more than that of a 70-year old in a settlement.
Therefore, much of the work in your case happens after the settlement.
Your attorney will help you present your claim to the settlement agent, demonstrating the specific facts that entitle you to damages.
How the injury affected your life
What the rest of your life may look like after the injury
Your specific career and the harm to your career path due to your injuries
If the mass tort is a class action, each class member receives a certain share of the settlement after they file a claim.
You Need an Experienced Plantation Mass Tort Lawyer
As you can see, there are many complexities with mass tort cases that require an attorney who has experience with these issues. These are much more difficult than a car accident case or even other types of claims against companies. Mass torts cases can take many resources to litigate and reach a resolution with far more steps than the usual lawsuit.
Mass tort cases require an attorney who understands complex scientific evidence and can work with experts to develop your case. They may also need to work effectively with other attorneys because plaintiffs will not have the same lawyer. Finally, they must have extensive investigative skills because they must get to the bottom of a complicated set of facts. When dealing with large-scale litigation that involves a company, there will be far more information to obtain and process than in a usual personal injury case.
Some mass tort cases have changed the world, but we understand that your primary motivation is to get the money to pay for your damages. In addition, you may want justice when one company's actions have harmed you or a loved one. Making them pay is a way to hold them accountable, and that may help you gain some closure in the face of your suffering.
Attorneys Handling Mass Torts Cases in Plantation
Feingold & Posner has recovered millions of dollars for families in complex personal injury lawsuits. We have the experience necessary to take on big companies and their high-priced lawyers in mass tort cases to help you get the recovery that you legally deserve. Call us today at 954-807-4665 or contact us online to schedule your free initial consultation. A Plantation mass tort lawyer will answer all of your questions and work with you on your legal path forward.
Contact A Plantation Mass Torts Lawyer Today
Feingold & Posner Accident Injury Lawyers
1380 N University Dr Suite 100,
Plantation, FL 33322
Phone: 954-807-4665
Online Form: Contact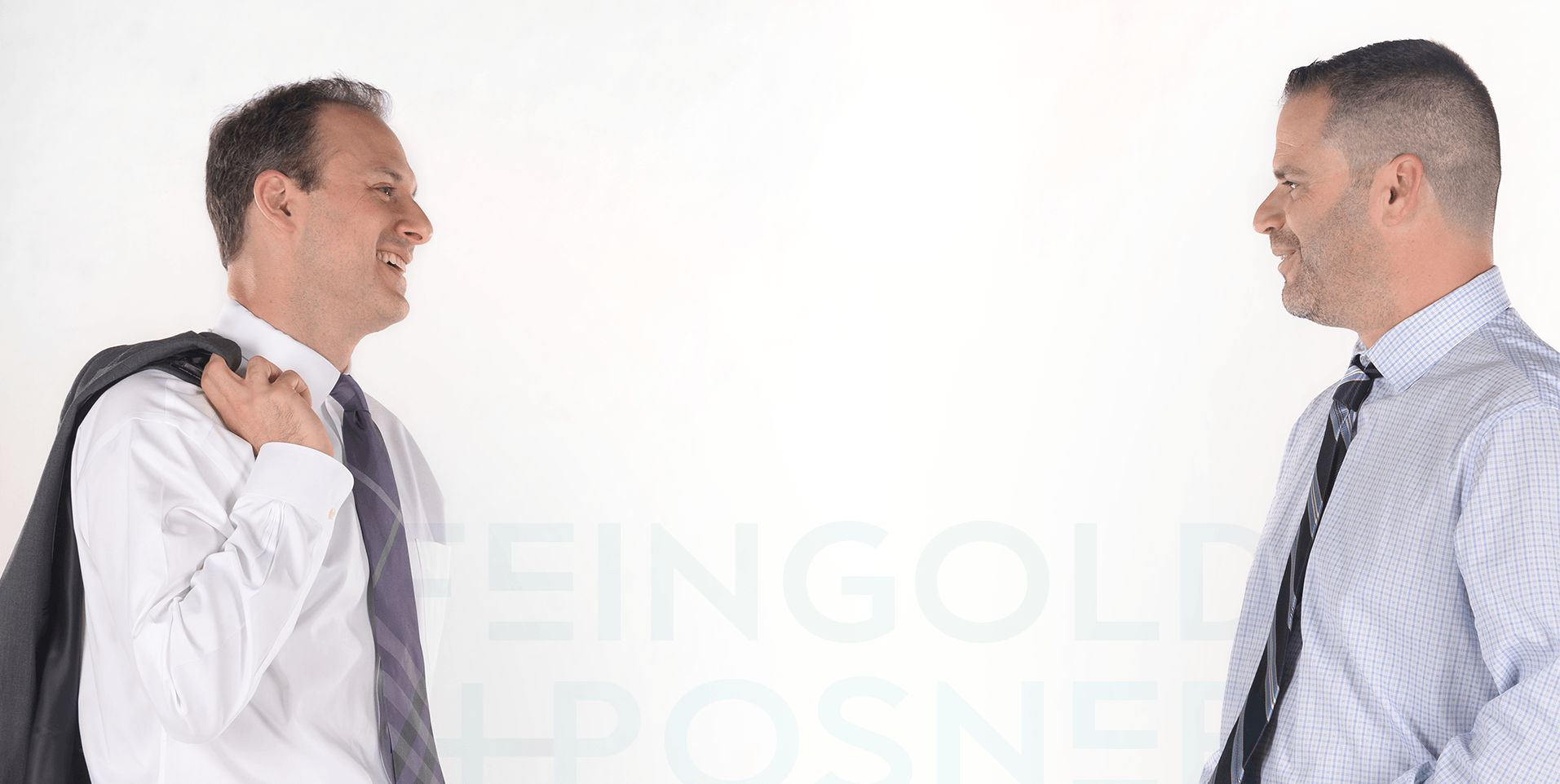 "These lawyers are not only very efficient, but caring as well. I would not hesitate to refer them to anyone."
MATTHEW T. / FORMER CLIENT