Port St. Lucie Car Accident Lawyer
Experienced Port St. Lucie Car Accident Lawyer Protects the Rights of Injured Accident Victims in St. Lucie County and Throughout Florida
Car accidents may seem like a common occurrence, but there is nothing ordinary about an accident when you are involved in a crash. When you have been hurt by a car accident that was caused by a negligent driver, let a Port St. Lucie car accident lawyer help. Reach out to Feingold & Posner, P.A. for a free initial case evaluation to discuss how our firm can guide you through the claims process. Our goal is to provide you with the detailed, effective legal representation you need during this difficult time. We will do everything in our power to make recovering compensation and justice as smooth as possible for you.
Port St. Lucie Car Accident Statistics
The Florida Department of Highway Safety and Motor Vehicles reports that, over the period of 2018 through 2020, there were an average of 4,880 motor vehicle crashes per year in St. Lucie County, with annual averages of 2,874 injuries and 43 fatalities. In addition, there were an average of 2,153 accidents per year that resulted only in property damage. 
In St. Lucie County, there were an average of 51 crashes per year that were confirmed to involve alcohol, while an average of six accidents were confirmed to involve drugs, and another three accidents had confirmed the involvement of alcohol and drugs.
Common Types of Car Accidents We See
At Feingold & Posner, P.A. we vigorously advocate for the interests of victims of car accidents that involve:
Aggressive driving
Drunk or drugged driving
Texting while driving or other distracted driving 
Personal injury protection (PIP) claims
Uninsured motorist claims
Underinsured motorist claims
Rear-end collisions
Head-on collisions
Vehicle rollovers
Side impacts
T-bone collisions
Causes of Car Accidents in Port St. Lucie
Many car accidents can be attributed to driver error or carelessness. Some of the most frequent causes of car accidents in Port St. Lucie include:
Speeding
Reckless driving, including excessive speeding or cutting off other drivers
Tailgating
Disregarding traffic signals, including running red lights and stop signs
Unsafe turns and lane changes
Failing to yield the right of way
Distracted driving
Intoxicated driving
Drowsy/fatigued driving
Driver inexperience
Unfamiliarity with local roads
Inadequate or deferred vehicle maintenance
Other factors besides driver error can also lead to car accidents, including:
Car or auto part defects, including defects in tires, brakes, or transmissions
Adverse weather conditions
Low lighting
Poor road conditions, such as broken or uneven pavement, potholes, debris, or water/oil on the road surface
Big thanks to Eric and Doug for doing a great job with the handing of my auto accident. I highly recommend them!
What Should You Do After Being Involved in a Port St. Lucie Car Accident?
When you have been involved in a car crash in Port St. Lucie, you should remember to take the following steps to ensure you are in a better position to pursue a legal claim against an at-fault driver or party:
If you can do so right after the accident, take cell phone photos or video of vehicle damage, skid marks on the road, and the scene of the accident
Go to the hospital or to your primary care provider for an exam to diagnose any injuries you may have sustained in the accident
Follow your healthcare provider's treatment instructions and recommendations; if you put off treatment, it can adversely impact your claim for compensation
Retain any bills or invoices for expenses arising from the accident; also keep your pay stubs or tax returns on hand if you've missed work after the accident
Refrain from posting photos or videos of yourself on social media while you are still undergoing treatment or rehab for your car accident injuries, as insurers may try to use your social media to argue that you are not as injured as you claim
Finally, reach out to a Port St. Lucie car accident lawyer from Feingold & Posner, P.A. to discuss the next steps you and our firm can take to begin pursuing the financial recovery you deserve. 
Compensation You May Be Entitled to Following a Car Accident
Following a car accident that was caused by another driver, you may be able to recover compensation for expenses and losses you incur due to the crash. Financial recovery after a car accident may include:
Costs to repair damage to your vehicle, or the cash value of your car when it has been totaled in the accident
Medical and rehabilitation expenses
Expenses for long-term care you need when your injuries result in permanent disability
Past, ongoing, and future lost income and employment benefits if you cannot work because of your injuries or disabilities
Physical pain and anguish
Emotional trauma and distress
Reduced enjoyment and quality of life because of disabilities or permanent and severe scarring or disfigurement
How Can a Port St. Lucie Car Accident Lawyer from Feingold & Posner, P.A. Guide You Through the Process of Recovering Compensation for Your Injuries and Losses?
When you have been injured in a car accident, you deserve to focus your time and energy on your physical and emotional recovery. Let a Port St. Lucie car accident lawyer at Feingold & Posner, P.A. take on the work necessary to prepare your case and pursue the financial recovery you may be entitled to. Trust our legal team to:
Thoroughly investigate the accident to identify the party or parties at fault for the crash and your injuries
Document your expenses and losses to calculate what full compensation looks like for you
Go over your legal options with you and ensure you know what to expect at each stage of your claim
File insurance and legal claims on your behalf to pursue a settlement that pays you the financial recovery you need
Taking your case to trial when litigation becomes necessary to demand accountability and justice from those at fault for the accident
Reach Out to Our Firm Today for a Free Case Review to Discuss Your Next Steps with a Port St. Lucie Car Accident Lawyer
After you have been involved in a car crash that was caused by another driver's negligence, contact Feingold & Posner, P.A. for a free, no-obligation consultation. A Port St. Lucie car accident lawyer from our firm can go over your legal options to demand financial recovery and justice from the parties at fault for your injuries and losses. 
About Port St. Lucie, FL
Port St. Lucie is a city located in St. Lucie County, Florida, and is the most populous municipality in the county. Port St. Lucie is located roughly midway between Orlando and Miami and is the center of the Port St. Lucie metropolitan area that covers St. Lucie and Martin Counties. Port St. Lucie is one of the oldest European settlements in the United States, with the city getting its name from a nearby settlement on the Jupiter Inlet that was founded on St. Lucia's day in 1566. Present-day Port St. Lucie was a largely uninhabitable tract until the construction of a bridge over the St. Lucie River in 1959 that permitted automobile access, with the city being incorporated two years later. In recent years, Port St. Lucie has experienced significant growth with the construction of manufacturing and R&D facilities and corridors throughout the city.
Frequently Asked Questions about Car Accidents in Port St. Lucie
Will I need a Port St. Lucie car accident lawyer to settle with the insurance company?
You can best protect your rights after a car accident by having any settlement offer you've received from the insurance company reviewed by a Port St. Lucie car accident lawyer from Feingold & Posner, P.A. Our firm can review the terms of any settlement offer along with the facts of your case to advise you whether the offer will provide you with fair compensation for your injuries and losses. If not, we can handle negotiations with the insurance company on your behalf to try to secure a better settlement offer.
Can I still get compensation if the driver at fault for the accident was not insured?
Florida requires all drivers to carry liability insurance that has certain minimum coverage. When you have been hit by a driver that doesn't have the required insurance, you still have options to recover compensation. First, you can file a claim under the personal injury protection coverage in your own auto insurance policy. PIP coverage is considered "no-fault" coverage, meaning you can receive compensation regardless of who was responsible for the accident. If you require further compensation, you may be entitled to file a lawsuit directly against the uninsured driver, although they may not have many financial resources. Alternatively, if you have purchased uninsured motorist coverage with your auto insurance policy, you can file a claim with your insurer to recover the compensation that the at-fault driver would be liable for.
If I was partially at fault for the accident, will it affect my right to compensation?
If you were partly responsible for the car accident you were involved in, Florida's comparative negligence law may affect the compensation you can receive in a car accident claim. Under the law, you are not barred from pursuing a car accident claim that you were partly responsible for, no matter your share of fault. However, you will be held responsible for the share of your expenses and losses in proportion to your fault for the car accident and your injuries. For example, if you incurred $100,000 in expenses and losses from a car accident that you were 30 percent at fault for, Florida's comparative fault law will make you responsible for $30,000 of those losses, meaning you can only recover $70,000 in a car accident claim.
How long do I have to file a lawsuit on my car accident claim?
In Florida, the statute of limitations places a deadline on when you must file a lawsuit to pursue a legal claim. For car accident claims, you typically must file suit within four years of the date of the crash. In limited circumstances, the limitations period may be longer. A Port St. Lucie car accident lawyer can let you know when you will need to file suit to continue your case. If you file suit after the statute of limitations expires on your claim, your case can be dismissed by the trial court and you will lose your opportunity to recover compensation for your injuries and losses.
Will I have to go to trial?
We cannot predict at the start of your car accident case whether you will need to go to trial to win compensation. At Feingold & Posner, P.A., we work diligently to resolve your case as quickly as possible while still obtaining fair and full financial recovery for you. While most car accident claims are resolved through a negotiated settlement, some cases do end up at trial. Your Port St. Lucie car accident lawyer will provide you with prompt, honest advice when going to court, and to trial is the best option for you to recover compensation after a car accident.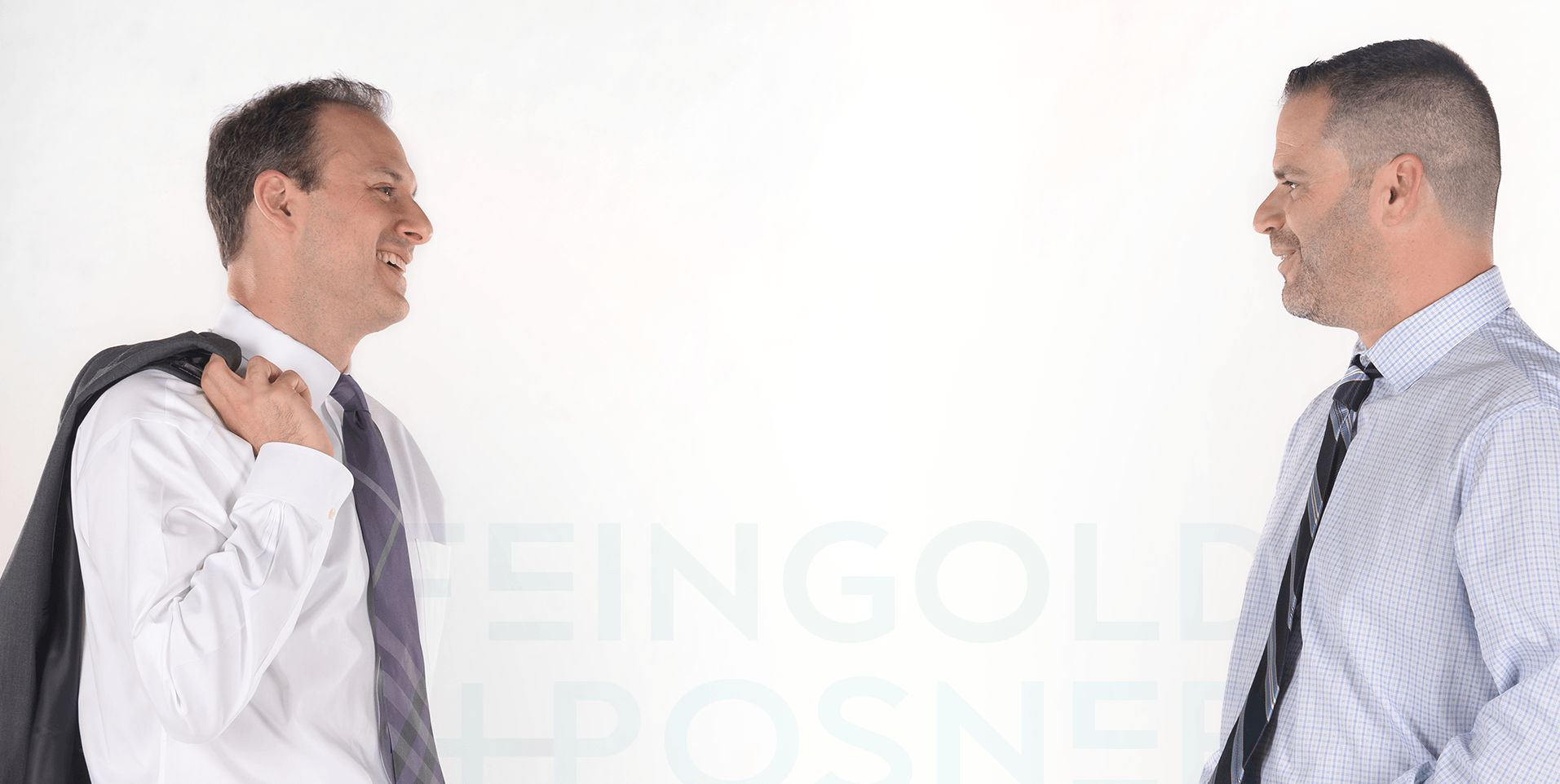 "These lawyers are not only very efficient, but caring as well. I would not hesitate to refer them to anyone."
MATTHEW T. / FORMER CLIENT