Plantation Product Liability Lawyer
Knowledgeable Plantation Product Liability Lawyer Pursues Recovery and Justice for Clients Injured by a Defective Product
If you suffered an injury because of a defective or dangerous product, you may be entitled to financial compensation, and a Plantation product liability lawyer can help you present your case and understand what compensation you might receive.
When you buy something, you are generally owed a duty on behalf of the manufacturer to provide you with a safe product as you ordered it. Not only must the product you ordered be functional, but it must also be free of dangerous conditions like contamination or defects that could lead to injury. Manufacturers have a responsibility to their consumers, and when they breach this responsibility, consumers can suffer harm.
Speaking with a product liability attorney as soon as possible after a product-related injury can help ensure that your case starts on the right foot to support your best outcome. Product liability lawsuits can be complex, and having the right attorney handling your case is essential to your financial future.
The legal team at Feingold & Posner Accident Injury Lawyers is ready to help with your potential product liability claim, so please reach out for more information today.
Common Products Involved in Product Liability Claims
Almost any type of product can have a defect that leads to a malfunction and injuries. The following is an overview of common products that are at the heart of these claims.
Pharmaceuticals and Medical Devices
These are some of the most well-known product cases, as they often impact the health of many people across the United States. Recently, the most discussed defective pharmaceutical product is Zantac, a prescription or over-the-counter medication that treated heartburn and acid reflux. As it turns out, Zantac and its generic counterparts contained dangerously high levels of carcinogens, which led to many cancer diagnoses of users. The FDA has since pulled all Zantac products from the market.
Other pharmaceuticals that led to product liability claims include various forms of birth control, testosterone therapy, diabetes medications, blood thinners, knee and hip replacements, CPAP treatment machines, and more.
Household Products
You do not usually look around your home and assume that you have defective or dangerous products, but chances are, there is something in your home that puts you at risk of injury.
Some household products that can be defective include:
Electronics, which can catch on fire or cause electrical shock
Furniture, which might collapse or fall over onto someone
Appliances, which can malfunction and cause burns, lacerations, and other injuries
Personal care products like Johnson & Johnson talc powder, which can cause cancer and other ailments
Recreational Equipment
If you or your family regularly uses bikes, rollerblades, and other recreational or sporting equipment, it can be defective in various ways. A bicycle wheel can come off, causing your child to fall hard and suffer a head injury or fractured arm. Safety gear might be defective and crack upon impact, exposing you to a higher risk of brain injury than you should have.
Child Products
When you have an infant or toddler, you likely purchase many products for them, both out of necessity and convenience. However, these products are regularly subject to recall due to defects that might result in injuries to your child.
Some child products that commonly malfunction are:
Cribs
Bassinets
High chairs
Swings
Changing tables
Strollers
Car seats
Toys
Clothing
Some child products might fall apart when the child is in it, and the infant or toddler cannot protect themselves from injuries. Others might happen because the age recommendations or warnings of choking hazards were not adequate. In either situation, parents can seek compensation for injuries to their child from the company that manufactured the defective product or failed to provide proper warnings.
Motor Vehicles
We rely on our motor vehicles – cars, SUVs, trucks, motorcycles – to get around and transport goods. Many of us are in our vehicles daily, driving alongside other vehicles. A malfunction of one vehicle can cause a driver to lose control and crash, possibly involving other cars.
If you can show that a vehicle had a defective part that led to the accident and injuries, you can file a claim against that part manufacturer in different scenarios, such as:
It was your vehicle that malfunctioned, and you suffered injuries
Another vehicle on the road malfunctioned and crashed into your car, causing you injuries
Common vehicle malfunctions include brake failures, airbag problems, tire blowouts, defective exhaust, and more. Auto manufacturers often fail to issue timely recalls of vehicles, further increasing the risk of harm to drivers and others on the road.
Personal injury attorneys Craig Posner and Eric Feingold are both excellent attorneys, but more importantly, they are excellent people. I have seen first hand their hard work and dedication to clients. I would not hesitate to recommend their services to others.
Manufacturers Owe Consumers a Duty of Care
To be entitled to damages in a product liability lawsuit, you must be able to prove that the manufacturer of the product owed you a duty of care. The concept of duty is outlined as an obligation on behalf of one party to exercise reasonable behavior to prevent injury to another. When it comes to products, the law imposes a duty on manufacturers to sell safe products and to warn consumers of the possible injury risks of using a product.
When Manufacturers Breach Their Duty of Care
There are different reasons why you might file a product liability claim, and this will depend on what caused your injuries.
Some common breaches of duty stated in product liability cases include:
Defective design of the product
Defective assembly or the use of inadequate materials
Failing to provide consumer warnings of known risks of using the product
Knowing which to claim can often require a technical investigation by product experts. This can be a complex process, as the expert must determine what the root of the product malfunction and injuries was. Our Plantation product liability attorneys have the resources to hire experts on your behalf to nail down the basis of your claim.
A Failure to Warn Can Expose a Manufacturer to Liability
When a company breaches a duty of care, the company is responsible for the related damages, and one common breach is a failure to warn. Companies must warn consumers about potential risks of using the product when it is reasonably foreseeable that regular users of the product would encounter such a potential injury risk.
When a manufacturer knows a product might not function effectively in a normal way in some circumstances, they must warn the consumer. This is common with pharmaceuticals, for example, when companies fail to warn of possible side effects.
If a patient knew about certain health risks of taking a medication, they might not agree to take the risk. However, when a pharma company fails to provide warnings, someone might take the medication believing it is safe, only to experience costly and often life-threatening side effects. Using the Zantac lawsuits as an example, if people knew that the carcinogen level of Zantac was dangerously high, most of them might not have taken it.
This is only one example of how failure to warn can lead to claims against manufacturers for injuries from unknown risks. A Plantation product liability lawyer handles these claims, as well as defective product cases.
Options for Filing Your Product Liability Claim
Some product liability claims are unique, as different people can suffer different injuries due to defective malfunctions. If you sustained injuries, you can always file a claim in civil court to seek financial recovery from the manufacturer. However, you can explore any other options with your lawyer.
Class Action Lawsuits
When a product is sold nationwide, and a large batch of the product is defective or has insufficient warnings, it can injure many other people. Since all plaintiffs would have similar claims against the same manufacturer, the law allows them to file a case together, which is a class-action lawsuit. One or a few plaintiffs will represent a larger group, and they can present the same expert findings and evidence to seek compensation together. Class actions can apply to many different types of legal claims, but product liability claims are some of the most common.
Multidistrict Litigation
If people are filing cases around the country in several different jurisdictions, they can seek to have their cases combined into multidistrict litigation (MDL). In an MDL case, the Judicial Panel on Multidistrict Litigation can grant MDL status, which consolidates the cases before one court and one judge.
In MDL, all of the plaintiffs can utilize the same discovery efforts, evidence gathered, and more. If some plaintiffs reject a settlement and want to go to trial regarding their damages, they will return to their initial jurisdiction to do so.
Both class action lawsuits and MDL cases can save plaintiffs resources and give them more leverage against a giant corporation.
Seeking the Right Legal Help
As mentioned, product liability cases are highly complicated and can become even more so if you are part of MDL or a class action lawsuit. This makes it especially important to have the right legal team handling your case and protecting your rights.
Make sure that you have a law firm that regularly handles product liability cases and has the resources to hire the experts needed for your claim. At your initial free consultation, ask plenty of questions to determine if a law firm seems prepared and equipped to handle a product liability case.
You can be certain that the manufacturer will have a team of lawyers and insurers ready to fight against liability. This means that you need an aggressive legal advocate who will not back down in the face of large corporate defendants.
Connect With a Plantation Product Liability Attorney Today to Help You Recover
Recovering damages on a product liability case can be a complex process requiring a thorough knowledge of product manufacturing and product liability law. Simply knowing who made the product that injured you is not enough to bring a lawsuit and collect your damages. You must present additional evidence of liability and damages, and our attorneys can help you do this to prove your claim.
Reach out to a Plantation product liability lawyer at Feingold & Posner Accident Injury Lawyers today to discuss the facts of your case. We can determine if you might have a product liability cause of action to seek compensation for your damages. Contact our team at 954-807-4665 for a free case evaluation today.
Plantation Product Liability FAQs
What is a product liability lawsuit?
A products liability lawsuit, generally speaking, involves a plaintiff seeking compensation from a manufacturer for damages that occurred when they used a defective product as the manufacturer intended. These lawsuits might involve one plaintiff, several plaintiffs, or thousands of plaintiffs if they have the same injury from the same product.
If I got COVID-19 due to using a defective product, do I have a case?
Many manufacturers made false claims about the effectiveness of products against COVID-19, and others made false claims about treatments and vaccines. If any of these companies' products or services injured you, you might have a compensation claim, and you should discuss the matter with an attorney.
Can a store be liable for the defective product that I purchased there?
Whether or not a retailer is responsible for a defective product that harmed you will depend on the facts and circumstances of the case. Specifically, it matters whether or not the retailer knew of the defect or inspected the product and found no apparent defects. The right attorney can review your situation and identify all potentially liable parties.
How can an attorney help me with my product liability case?
An experienced product liability lawyer knows what manufacturers owe their customers and can identify when manufacturers violated this duty. If this is the case, the manufacturer should be liable for your damages. An attorney can help with the entire complicated legal process. This can include:
— Retaining the right experts to investigate the cause of your injuries
— Calculating the extent of your losses
— Filing insurance claims against corporate policies
— Pursuing product liability litigation if needed
Never hesitate to speak with a Plantation product liability attorney at Feingold & Posner for assistance today.
Contact A Plantation Product Liability Lawyer Today
Feingold & Posner Accident Injury Lawyers
1380 N University Dr Suite 100,
Plantation, FL 33322
Phone: 954-807-4665
Online Form: Contact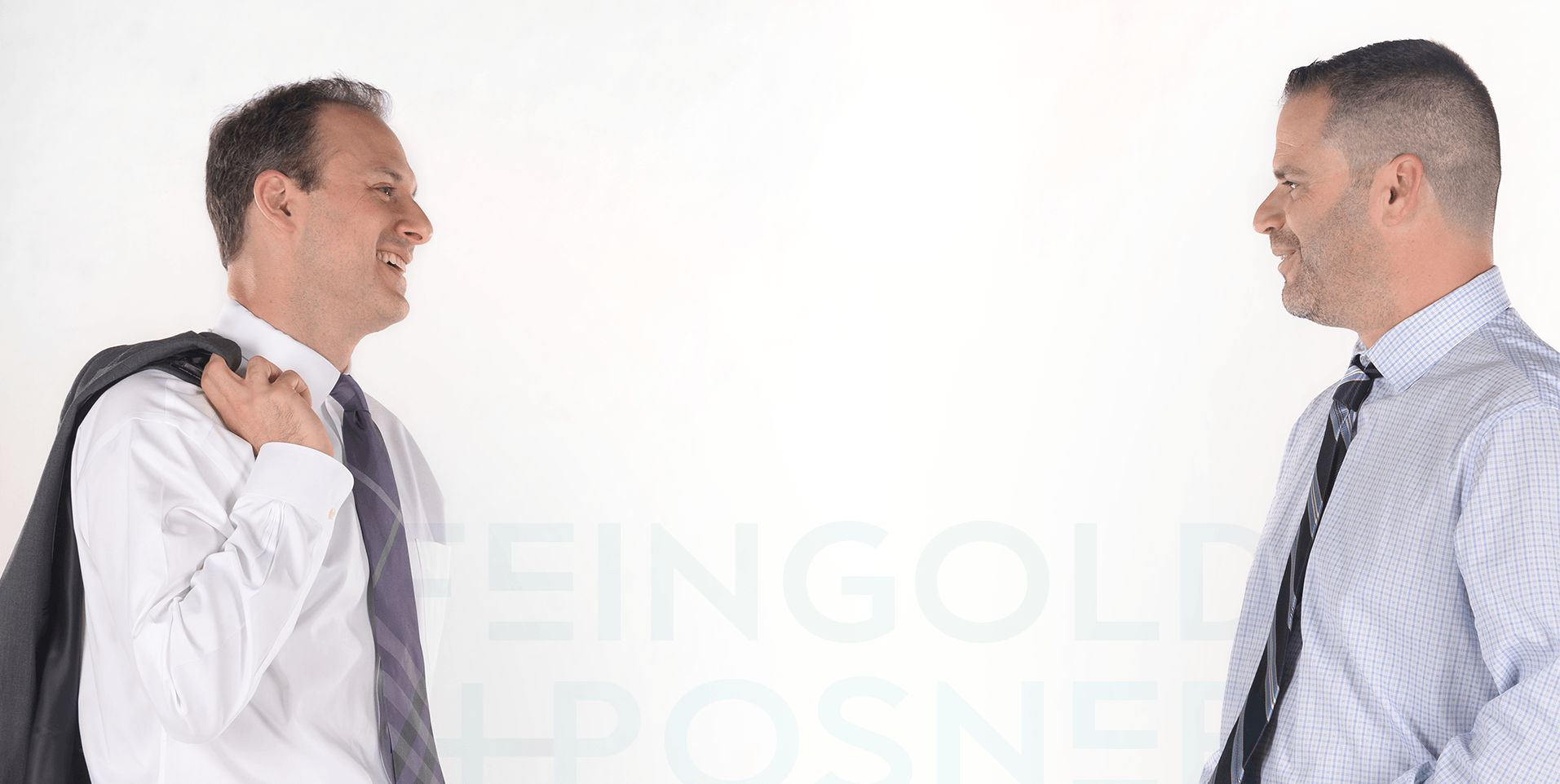 "These lawyers are not only very efficient, but caring as well. I would not hesitate to refer them to anyone."
MATTHEW T. / FORMER CLIENT