Plantation Catastrophic Injury Lawyer
Compassionate Plantation Catastrophic Injury Attorneys Support Accident Victims Throughout Florida
Only serious or catastrophic car accident injuries trigger claimants' financial recovery rights in no-fault states such as Florida. Special statutes limit accident victims' ability to sue for non-catastrophic soft tissue injuries, such as whiplash, minor concussions, and bruising, or recover damages from liability policies. A skilled Plantation catastrophic injury lawyer can help you after suffering a serious injury.
The definition of catastrophic injuries varies based on the underlying claim but generally includes death, devastating physical trauma, and injuries resulting in long-term disabilities. No-fault laws do not apply to non-traffic cases, but separate catastrophic injury statutes do apply to workplace injury claims.
The experienced Plantation catastrophic injury attorneys at Feingold & Posner Accident Injury Lawyers might recover damages for their clients when insurers allege that claimants don't meet serious injury thresholds. We also help families understand their legal rights after their loved ones suffer from life-altering traumas. Call our dedicated Plantation personal injury litigators at 954-807-4665 or connect with us online to schedule a free disabling injury consultation.
Understanding Florida No-Fault Car Accident Insurance Laws
Overview of Personal Injury Protection Coverage in Plantation
Florida adopted motor vehicle no-fault laws (Fl. Stat. § 627.7407) to reduce the volume of personal injury litigation among its growing population. No-fault systems require vehicle owners to carry at least $10,000 in personal injury protection ("PIP") insurance covering vehicle occupants or household members involved in traffic accidents.
PIP insurance immediately kicks in to pay for passenger's medical expenses, lost wages, and incidental damages after motor vehicle crashes. No-fault coverage provides these benefits regardless of fault, for example, even if you caused the accident and without requiring deductibles and copays.
Because most Plantation car accidents involve soft tissue injuries, including whiplash (neck strains), disc bulges, minor concussions, and tendon damage, this $10,000 generally covers claimants until they return to work.
However, there's a catch. Injured claimants cannot recover damages from the liable driver's insurer for non-catastrophic injuries or sue the negligent driver for personal injuries. They also cannot forgo PIP benefits in exchange for retaining their traditional litigation rights. To trigger the negligent driver's insurance coverage or gain the right to sue the driver for damages in civil court, the claimant must have suffered from a serious injury as defined by Fl. Stat. § 627.737.
Florida Threshold Injury Categories
Section 627.737 states that motor vehicle accident claimants—including those involved in Plantation car, truck, bus, motorcycle, and pedestrian collisions—may recover traditional tort damages if the driver's carelessness caused the following types of injuries or conditions:
Death – Negligently caused injuries resulting in fatalities, whether at the scene or delayed, automatically qualify families to bring wrongful death litigation against the negligent driver, vehicle owner, and/or liable corporate entity. Qualifying family members have two years from the date of death to file wrongful death litigation but might obtain immediate death benefits from no-fault insurers.
Permanent and significant loss of an important bodily system or function – Some car accident injuries, including multiple herniated discs, impair the claimant's ability to sit, stand, walk, or sleep without significant pain. Likewise, some vehicle accidents damage the claimant's bowel and kidney function. Injuries resulting in significant lifestyle changes, including fractures under Florida case law, typically qualify as catastrophic trauma.
Injuries resulting in permanent and significant scarring or disfigurement – Full-thickness burns, injuries leaving surgical scars, and facial damage resulting in disfigurement might all qualify claimants to sue negligent drivers in Plantation area courts.
Other medically verified permanent injuries – Because claimants only have two years to file personal injury litigation in Florida, doctors must speculate about the permanency of certain conditions. Claimants might recover car accident damages provided reputable doctors certify the permanency of their injuries.
If your car accident injuries prevent you from doing your usual daily activities without pain, discuss your right to hold the liable driver financially responsible with our Plantation catastrophic injury lawyer. Insurers will disqualify your pain and minimize the seriousness of your condition to protect their bottom line. Only accept legal advice about Florida no-fault and injury threshold laws from attorneys dedicated to protecting wrongfully injured claimants.
Examples of Serious, Disfiguring, and Permanent Motor Vehicle Accident Injuries
Car accident injuries affect every claimant differently. Construction workers suffering from herniated discs may find themselves permanently disabled from their chosen careers, but retired teachers might not experience any significant lifestyle changes. As such, the same injury might qualify as catastrophic for one claimant but not the other.
The right injury lawyer might help victims of Plantation traffic accidents recover damages in addition to no-fault benefits for the following injuries:
Burns
Smoke inhalation injuries
Facial lacerations
Fractures
Multiple slipped/bulging discs
Herniated discs
Disabling sciatica pain
Nerve damage
Traumatic Brain Injuries (TBI)
Concussions
Shoulder and knee damage
Amputations
Spinal cord injuries (paralysis)
Post-traumatic stress disorder (PTSD)
If you've exhausted your PIP benefits and continue struggling with disabling physical and emotional pain, you may have suffered a serious injury.
Personal injury attorneys Craig Posner and Eric Feingold are both excellent attorneys, but more importantly, they are excellent people. I have seen first hand their hard work and dedication to clients. I would not hesitate to recommend their services to others.
Defining Catastrophic Injuries Under Florida Workers' Compensation Insurance Laws
Florida's workers' compensation insurance system also provides no-fault benefits. As such, special laws apply when employees sustain serious injuries while working. The state requires employers with more than four employees and all construction industry employers to carry workers' compensation insurance.
These policies cover employees, including temporary, seasonal employees, but not independent contractors. In exchange for providing immediate no-fault lost wage and medical benefits, injured employees cannot sue their employers or negligent co-workers for personal injury damages. Though similar to PIP benefits, workers' compensation policies generally provide substantially higher benefits for the duration of the claimant's disability.
Workers' compensation provides both partial and total disability benefits, meaning claimants placed on light duty might recover compensation for necessary wage cuts or lost overtime pay. As such, insurers begin the claims process by assessing the severity of the employee's injury.
Workers' compensation doctors will give claimants an impairment rating, which an attorney may challenge, that sets the claimant's benefits level. Catastrophic workplace injuries may result in 100 percent impairment ratings, which regulations refer to as permanent total disabilities.
Under Section 440.15 of Florida's workers' compensation statutes, the following catastrophic conditions automatically qualify claimants for maximum benefits:
Spinal cord injuries resulting in paralysis
Blindness
Amputation of one or more arms, hands, feet, or legs
Combined second and third-degree burns over 25 percent of the claimant's body
Third-degree burns over 5 percent of the claimant's body
The above injuries represent the most common catastrophic conditions in Plantation. However, the law also states that claimants might recover permanent total disability benefits if they establish that any injury or illness prevents them from doing sedentary labor, such as working on a computer or doing paperwork, outside the home.
Examples include disabling back and neck pain, nerve damage after electrocutions, or late-stage cancers resulting from workplace chemical exposure. Just because your injury is not listed doesn't mean it's not catastrophic. The above list simply gives claimants an accelerated means of recovering workers' compensation benefits.
Plantation Accidents Most Commonly Resulting in Catastrophic Medical Conditions
In addition to traffic and mass transportation accidents, certain events have high catastrophic injury rates. These often include the following:
Medical Malpractice
Birth, surgical, and prescription drug mistakes may result in disabling brain trauma. These incidents of medical malpractice often cut off the brain's essential oxygen supply, killing brain cells and causing permanent cognitive disabilities in minutes. Extreme physician neglect, including performing procedures while intoxicated or causing intentional harm, as in the case of Dr. Death, has also resulted in catastrophic brain and spinal cord trauma. Experienced medical malpractice lawyers in Plantation might help victims, and their families recover substantial damages after these shocking events. Patients may recover damages for all injuries—including non-catastrophic injuries—resulting from medical negligence in Plantation.
Elevated Falls
Falls are the leading cause of catastrophic workplace injuries and brain trauma among young children and the elderly. According to OSHA, falling from rooftops and falls caused by safety failures commonly result in total permanent disabilities. Falling down the stairs or tripping accidents might also result in broken necks and catastrophic spinal cord damage. Non-work falls trigger premises liability claims, not auto or workers' compensation insurance laws. As such, claimants do not need to meet catastrophic injury thresholds to sue negligent property owners or recover damages from property insurers.
Violent Assaults
Gunshot wounds and gang attacks may result in catastrophic injuries. These injuries most often involve disabling fractures, spinal cord damage, and severe brain trauma. However, they might also include disabling emotional conditions from sexual assault. Survivors of devastating robberies, domestic violence, and senseless gun violence might demand restitution in criminal court and sue the offender for personal injury damages in Florida civil court. These intentional tort claims often give claimants the right to demand punitive damages directly from the offender.
Recreational Sports/Drowning
Various traumatic brain and spine injuries occur during recreational sports. Victims saved from drowning through CPR might still suffer from permanent cognitive disabilities resulting from brain cell death. Diving and horseback riding accidents may also result in devastating broken necks and paralyzing injuries in the greater Plantation area. Unless Florida workers' compensation laws apply, claimants might recover damages for all unlawfully inflected sports injuries regardless of their disability level.
Explosions and Electrocutions
Catastrophic injuries resulting from explosions and electrocutions often occur on construction and oil drilling sites. However, Plantation injury claimants may also suffer catastrophic injuries from dangerous household products. Kitchen appliances, lawnmowers, electric yard tools, and large appliances might cause burns, nerve injuries, blindness, and disfigurement. Knowledgeable personal injury attorneys in Florida might help victims recover damages from the defective item's manufacturer during product liability litigation.
Residential Fires & Structural Collapses
The Surfside condo collapse is a devastating example of how landlord negligence can result in catastrophe. Many disabling injuries occur in neglected apartment blocks and condos in the Plantation area. Legal professionals with experience handling residential injury claims might help victims of landlord neglect obtain needed damages.
Estimating Catastrophic Injury Costs in Plantation
Claimants suffering from disabling medical conditions incur substantial lost wages, medical bills, and caretaker costs. These life-altering injuries also result in extensive physical pain, frustration, and emotional suffering. No amount of money can truly compensate claimants for these losses, but obtaining financial awards might ease the burden on family caretakers, allow patients to obtain specialized medical care, and increase the claimant's overall quality of life.
According to the Christopher & Dana Reeve Foundation, patients with catastrophic spinal cord injuries generally incur between $2 to $5 million in lifetime medical costs before accounting for lost wages and benefits. Assuming the average salary and work life, claimants may incur an additional $1-2 million in lost income.
Courts generally calculate pain and suffering (non-economic damages) by multiplying the claimant's overall economic losses by figures between 1.5 and 9. Catastrophic injuries generally result in higher multiplication factors, meaning claimants might have cases worth between $15 and $50 million.
Most claimants cannot recover these high-value awards due to statutory caps and limited insurance availability. However, claimants suffering from negligently or intentionally inflicted catastrophic injuries might recover substantial compensation with the help of a dedicated Plantation catastrophic injury lawyer at Feingold & Posner Accident Injury Lawyers.
These damages might include:
Rehabilitation and therapy expenses
Home nursing care
Companionship care and household help
Specialized medical equipment
Medical transportation costs
Lost income, including bonuses, commissions, salary, overtime, and business profits
Lost employment benefits, including retirement contributions, paid vacation, and health insurance costs
Lost/reduced earning capacity and promotions
Physical pain
Emotional suffering
Frustration and inconvenience
Lost enjoyment of life and previous activities
Spouses, parents of injured minors, and minor children might also recover damages for lost guidance, physical relationships, and emotional companionship. While it's impossible to fully compensate catastrophically injured claimants for their true losses, a compassionate Plantation catastrophic injury lawyer fights to maximize the value of our client's claims.
Retain a Dedicated Plantation Catastrophic Injury Lawyer at Feingold & Posner Accident Injury Lawyers
By taking advantage of Feingold & Posner Accident Injury Lawyers' contingency fee arrangement, seriously injured claimants and their families might obtain needed legal help without any upfront fees or costs. We don't get paid unless you recover needed compensation after devastating accidents in Plantation.
Whether you suffered head trauma during a car crash, spinal cord damage after workplace falls, or severe burns following apartment fires, discuss your case with our Plantation catastrophic injury lawyer for free by calling 954-807-4665 or contacting us online.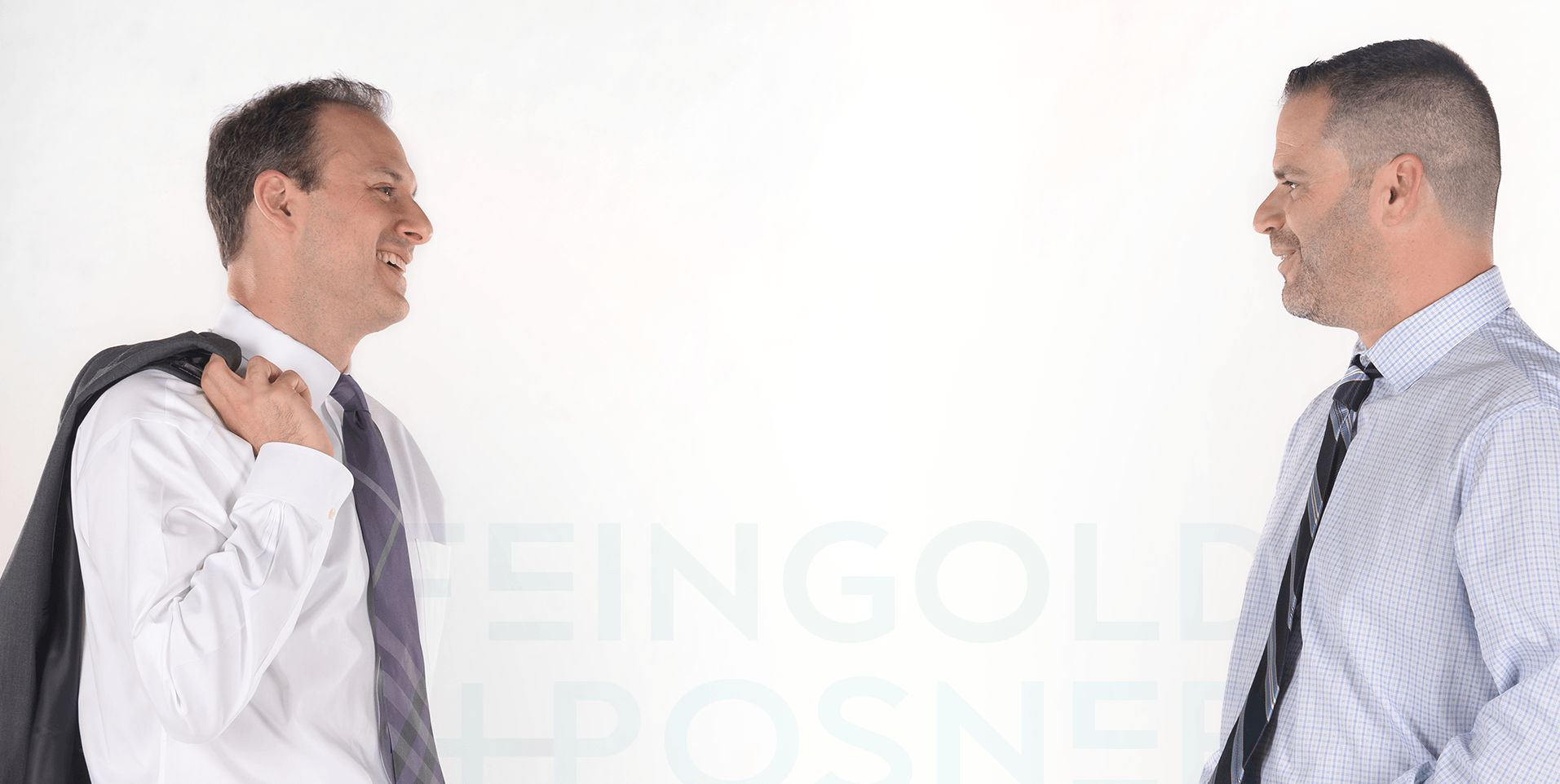 "These lawyers are not only very efficient, but caring as well. I would not hesitate to refer them to anyone."
MATTHEW T. / FORMER CLIENT