What to Expect Physically After a Car Accident
January 05, 2022
When Do You Need a Lawyer's Help to Pay for It?
In the days after an accident, you are dealing with the effects of your injuries. Some car accident victims will go straight to the hospital from the accident scene for emergency treatment.
Approximately 2.5 million people went to the emergency room after car accidents.
 While healthcare workers sent many of them home after treatment, they still incurred high medical bills.
The Effects of Your Physical Injuries After a Car Accident
The average length of a hospital stay depends on the severity of your injury. If you have gone to the hospital, you can expect the physical effects of your injury to last for some time.
Serious car accident injuries can require:
An extended stay in the hospital
Extensive physical and occupational therapy
Continued visits to healthcare providers and specialists
Reduced physical activity (if you can be active at all)
Prolonged time out of work
Physical Car Accident Injury Symptoms
Even if you do not go to a hospital after the accident, you can count on some of the physical symptoms of injury:
Pain and discomfort
Swelling
Numbness
Bruising
These are just the physical injuries that you can feel and notice. The symptoms are a definite sign that something is wrong, and you should not go without medical attention. These may not go away at all without treatment, and you should never ignore them. The symptoms may grow worse.
The time after a car accident is a stressful and painful period in your life. Not only are you in physical discomfort with your injuries, but you can also suffer mental health challenges. Having to go through everything after an accident can cause depression and anxiety.
Make Sure to Get All of the Medical Care and Do What the Doctors Say
No matter how difficult it is, you need to go to all of your doctor's appointments and follow their recommendations to the letter. Not only will it help you recover faster, but it will also strengthen your legal claim. If you do not follow all treatment recommendations, you may receive a reduced financial recovery because you have not done everything that you can on your end.
In addition, you should not file your claim until you reach the point of maximum medical improvement. While this is not a hard and fast rule, it makes little sense to ask for money for injuries that may be temporary. The insurance company may not pay you when they do not believe that your injuries are permanent. They need something more to base their settlement offer on before making it.
Call Us Today To Schedule A Free Personal Injury Consultation
954-807-4665
Some Car Accident Injury Symptoms Show up Days Later
A major issue in car accident cases is that your injuries are not always apparent at the time of your accident. You may need treatment at the scene. Even when medics check you out at the time of the accident, this is not the end of the care that you may need after your accident.
 Though you may feel fine at the time of the accident, some injuries take some time to show symptoms.
Neck and back injuries
These are the most common injuries after a car accident. The force of the accident places a large strain on your neck and head. You may find yourself with worsening back pain after a car accident. The discomfort can be a sign of a disc injury or a strain. You may have suffered a spinal cord injury in a more serious case.
In any event, a medical professional should evaluate your neck or back injury quickly, so they can diagnose and treat it. Treatment time is critical for more severe injuries. The problem is that you never know when you have suffered a severe injury. What you may think is minor can be a permanent and debilitating condition. Even more minor car accidents can cause severe back injuries.
Traumatic Brain Injuries
Symptoms of a traumatic brain injury that show up in the time after a car accident can include:
Persistent headaches
Dizziness
Confusion
Irritability
Depression
Loss of memory
Internal Injuries
These are very severe injuries because there is something wrong inside your body that you cannot see. The medics on the scene may not have any idea that there is something wrong with you because it is not immediately apparent to them. The impact of a car accident can cause internal injuries.
For example, the force of the airbag deploying can injure you, or the seatbelt can hurt your body. A medical professional must treat internal injuries immediately.
Internal injuries can include:
Internal bleeding
Liver lacerations
Kidney damage
Broken ribs
Signs That You May Have Internal Injuries
Here are some symptoms of internal injuries to be on the lookout for.
If you feel any of these, you should seek medical help immediately:
Abdominal pain
Difficulty breathing
Nausea
Bruising
Vomiting
These are not things that you should just wait on to see if you feel symptoms after an accident. You may begin to feel the effects of the accident days or weeks afterward. By this time, the condition that has been causing the accident has likely grown worse. In the meantime, you may have lost valuable treatment time that can help you recover for the long term.
Why Seeing a Doctor Is So Important
When you feel any one of the symptoms mentioned above, take action immediately.
The reasons, other than your health (the most important one), why you need prompt medical care after an accident include:
You have a legal obligation to mitigate your damages, seeking treatment as soon as possible to keep your condition from getting worse.
You need to have documentation of your medical condition when you file your claim. Otherwise, the insurance company will not pay you for your injuries.
If you wait too long to get medical care, it increases the chances that the insurance company will claim that your condition was pre-existing or caused by something else.
How to Document Your Physical Injuries and Their Effects
One of the things that you can do to help your case is to keep a log of what you have experienced after your car accident. Documentation is important when you are trying to collect compensation for your pain and suffering.
The insurance company will try to use an "objective" formula to compensate you for your experience after the accident. They base this formula on what they want to pay you instead of what you have gone through.
Your pain journal puts an actual "human face" on your experience. Keeping this on a real-time basis can counteract what the insurance company says that you have experienced after the accident. It is an important piece of documentation that can help prove your damages (which also include your loss of enjoyment of life).
Why You Need a Lawyer After Your Car Accident
If you have suffered any type of physical injury in a car accident, you need to hire an experienced attorney to help with the legal process.
Even if you are not yet sure if you have suffered an injury, you should still check with and get legal advice from a lawyer. After all, it does not cost you anything to speak with a lawyer. Consultations are completely free, and you will not even need to pay a lawyer throughout the legal process. (Your lawyer collects payment only if you win.)
The cost of any medical treatment is prohibitively expensive. Even an old 2014 study found that the average cost of an emergency room visit after a car accident was $3,300. The rate of healthcare inflation has made the number far larger now.
This is only part of the story. After you have suffered an injury in an accident, healthcare providers and surgeons may inflate their bills, knowing that you have a certain amount of coverage to pay them.
These providers often get first dibs on your car accident settlement, so you need a lawyer to help negotiate with insurers and healthcare providers. When there is a limited amount of coverage between the other driver's coverage and your own underinsured motorist policy, you must have a certain amount left over for yourself to pay for your own damages.
You Should Not Try to Deal with the Insurance Company on Your Own
You need a lawyer because you cannot handle your car accident claim on your own. Even if you have the legal knowledge to deal with the process, when you have suffered any one of the injuries listed above, you likely do not have the physical ability to file your claim. It is a stressful process, and you already have your hands full.
The second is that you need to maximize your financial recovery from your car accident. When you have suffered physical injuries, they will impact your life in areas far beyond your health. You can count on missing a good deal of work or not working to the level that you once did for a while. You may also have to forgo activities that you once enjoyed. Payment for all of these is a part of your car accident settlement. Whether the insurance company chooses to acknowledge the severity of your injuries or not, you have legal rights to financial compensation.
Your attorney will help you tell the story of your injuries and how they have impacted your life. You do not get damages that you cannot prove or quantify. All along, you will be dealing with an insurance company that will seek to minimize your damages at every turn. They probably don't care about what your life has been like since the accident. They are just trying to get out of paying you what you legally deserve.
Finally, you need a counselor and guide to the legal process. Hopefully, this is the first time that you needed to make an insurance claim after an accident for any reason. You would not have a reason to know how the process works. There are some nuances that an experienced lawyer can help you navigate. You will also experience some challenges because getting a full check from the insurance company is never easy.
Call Us Today To Schedule A Free Personal Injury Consultation
954-807-4665
Be Patient. It Takes Time to Get Your Settlement Check
The financial compensation process is not something that happens overnight. If you have suffered an injury, the insurance company will make you work for your settlement check. It takes time and some negotiating prowess to get a reasonable check out of the insurance company. We will help you fight for it.
The key is to know that you need to get both medical and legal help. Never try to brave the post-accident process on your own. Doing so can harm both your health and your financial situation after a car accident that was not your fault.
The right attorneys are ready to help you receive the money that they deserved after someone else's carelessness hurt them—and they will charge you nothing unless you win your case.
It has been a pleasure and blessing to have Feingold and Posner represent my family. They always kept me updated on our case. The staff was excellent they always got back to me on questions I had. I highly recommend them and will continue to use them if needed.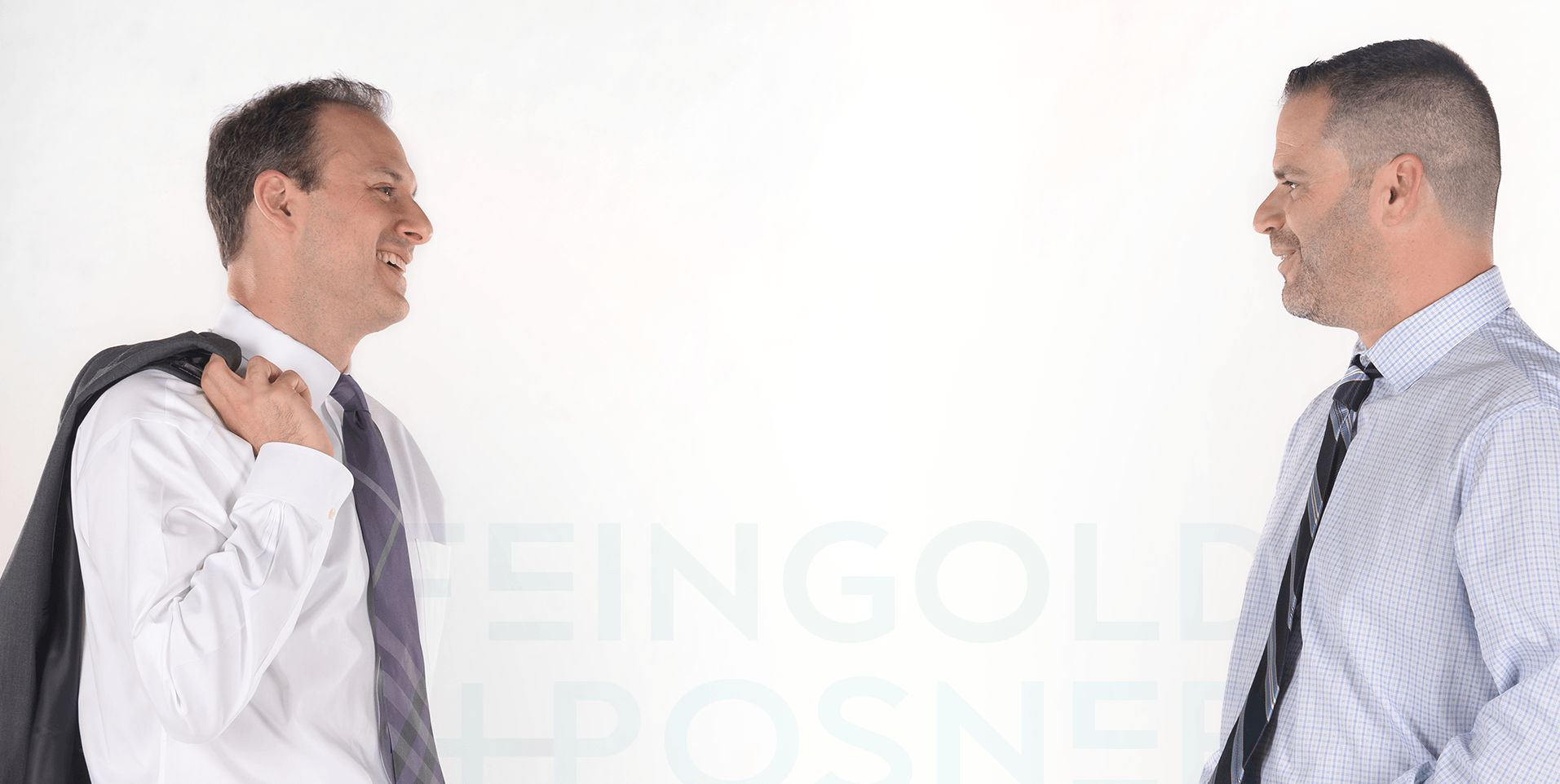 "These lawyers are not only very efficient, but caring as well. I would not hesitate to refer them to anyone."
MATTHEW T. / FORMER CLIENT