Mechanical Failure in Trucks
December 22, 2021
Being in an accident with any vehicle can put your entire life on hold while you focus on repairing your vehicle and recovering from any injuries that might have happened in the accident.
An accident with a large truck or bus can lead to significant damage to your vehicle and your body and can cause lasting impacts on your ability to enjoy your personal life or even return to work or continue working. Trucks are larger than traditional passenger vehicles, and when they collide with similar vehicles, the amount of damage experienced can be substantial.
If you were in an accident with a truck or bus that caused the accident, you may recover damages. Reaching out to a local truck accident attorney to explore the facts and circumstances of your case to determine what compensation might be available to you will help you make the most of your case.
In this article, we'll explore various reasons why trucks might have caused your accident and what damages you can be entitled to. A personal injury attorney with a truck accident practice will help you make the most of your case while handling all the negotiations and stress for you, so you can focus on getting past your accident while your attorney makes sure you collect the compensation you deserve.
Trucks and Buses are Especially Dangerous to Passenger Motor Vehicles
Trucks and buses are especially dangerous on the road, given their significantly greater height and weight. In one recent year alone, there were 5,237 large trucks and buses involved in fatal accidents on U.S. roads, and during that same year, there were 127,000 accidents with large trucks and buses that involved injuries. The number of accidents that occur as a result of buses and large trucks is substantial, and the level of danger that you face when colliding with a large truck is greater.
Trucks and buses are more likely to ride over passenger vehicles in accidents due to their higher operating height. Due to the higher operating height and ride-over potential, occupants of passenger vehicles are more likely to be injured or killed than occupants of buses or trucks when they have accidents. Due to the greater danger associated with getting into an accident with a truck, truck drivers and their employers are held to higher standards when driving than traditional passenger vehicle motorists.
Mechanical Failures and Defects in Trucks Can Cause Accidents and Entitle You to Damages
When an accident happens, and you are not at fault, you are entitled to compensation to cover the costs associated with your accident. The reason for your truck accident might not be the truck driver themselves, as we'll discuss below, but due to a mechanical issue in the truck.
When a truck has a mechanical error that causes an accident, and you suffer an injury, you are entitled to damages from the party that caused the mechanical error. This can be due to a manufacturing defect that caused the mechanical failure. For example, if Ford sold trucks with faulty ignition switches that caused the trucks to stall out and cause accidents, you would be entitled to damages from the manufacturer.
A mechanical failure that causes an accident will entitle you to damages. The amount that you are entitled to will depend upon the unique facts and circumstances of your accident.
You will have to file a claim against the at-fault party to collect on your damages, which you'll first have to accurately calculate to ensure that you receive full coverage for your injuries and damages—connecting with an attorney as soon as possible after your accident will help to ensure that you receive the fullest damages you are entitled to. While mechanical failures cause accidents from time to time, often, it is the behavior of the driver that causes the accident, as we'll explore below.
We Hold Truck Drivers to a Higher Standard
Due to trucks and buses' greater weight and height, bus drivers and truck drivers generally have to get commercial driver's licenses. These licenses demonstrate a greater level of skill and knowledge on behalf of the driver, as this is required to operate the larger vehicles.
A side-effect of being much larger and heavier than traditional vehicles is a decreased response time and less ability to quickly respond to changes in road conditions or the unexpected actions of other drivers. The higher level of skill and knowledge of truck drivers means that we hold them to a higher level of responsibility behind the wheel.
Distracted Driving Also Causes Many Truck Accidents
Each day in the United States, an estimated eight people lose their lives in accidents involving distracted driving. Distracted driving is engaging in any activity while driving that takes your attention away from the road.
Distracted driving is either visual, manual, or cognitive.
Visually distracted driving is doing any activity that takes your eyes off the road. Manual distracted driving is engaging in an activity that takes your hands off the wheel, while cognitive distracted driving is doing any activity that takes your mind off of driving. Truck drivers must take care to pay attention to the road, and their employers must also allow them sufficient rest between shifts to ensure they are capable of focusing on driving.
Driver Fatigue is a Serious and Dangerous Issue with Truck Drivers
Truck drivers must be attentive and responsible while they are driving, and this requires that they can pay attention. Paying attention requires a well-rested mind, and in the case of commercial truck drivers, their employers must provide them with sufficient time between shifts to rest. When truck drivers do not have sufficient time to recover between shifts, their ability to pay attention to the road and react to conditions on it suffers.
If you are in an accident with a truck driver, your attorney will know how to collect the relevant evidence to determine if the truck driver had adequate rest time between shifts. If not, their employer may also be liable for your damages.
It is important to note that your damages will come from not only the truck driver and their personal coverage. Generally, truck drivers are working for an employer, and they will have insurance, and your compensation will come from the employer and their insurance company.
When dealing with the insurance company, remember that they work for profit, not for you, so preparing for your case from the start will ensure timely and complete payment of your benefits, instead of time-consuming delays and denials.
If You Lost a Loved One in a Truck Accident, the Law Might Entitle Your Family to Damages
When you lose a loved one in an accident, they cannot bring a lawsuit on their own behalf, but their surviving loved ones can. If you have lost a loved one to a truck accident, you can bring a wrongful death lawsuit on their behalf to collect damages. The damages that are available to you after losing a loved one to an accident include the financial contribution they would have made to your household through their working life, in addition to damages for pain and suffering on behalf of your lost loved one and damages for your loss of the emotional and mental support of your loved one.
Damages for the financial loss of your loved one include the amount they contributed to your household financially. For example, if you lose your spouse in a truck accident who contributed fifty thousand dollars each year to your household, and they had ten years of working life remaining when they were lost, you would be entitled to fifty thousand dollars times ten years.
The amount you collect in the present must take into account the future value of the earnings your lost loved one would have contributed and translated into the present value of the money to be represented by your damages.
Losing a loved one does not only deny you their financial contribution but also their emotional and mental support. When a loved one is lost prematurely, you can also recover damages for loss of consortium. Loss of consortium damages compensates you for the loss of your loved one in your household and the benefit of their presence, comradeship, and emotional support.
Measuring wrongful death damages in terms of loss of consortium can be difficult to determine and is often based on the outcome of similar cases. To receive the most for your wrongful death compensation, having an experienced attorney on your side as soon as possible after the accident will support the best possible outcome for you.
Your Truck Accident Attorney Handles the Process for You
Having to negotiate and communicate with the insurance company and opposing attorneys when you are trying to get past your accident is difficult, if not impossible, to do well. You will be going against the insurance company and their claim adjusters and attorneys, trying to deny whichever claims they can or to pay as little as possible on those that are approved.
Your attorney steps into your shoes and removes the day-to-day stress associated with negotiations from your life. You can step back and focus on recovering from your accident and getting your life back in order while your attorney ensures that you get the best possible compensation for your damages.
A Local Truck Accident Attorney Can Help
Not all attorneys are equally as capable of representing you in your truck accident. Much like doctors, attorneys have areas of specialty. In the same way, you would not go to a foot doctor for a problem with your brain, and you would not go to a criminal defense lawyer for help with your truck accident.
A truck accidet attorney will help you make the most of your settlement. Personal injury attorneys might specialize in anything from medical malpractice to slip-and-falls, so make sure you line up an attorney who has truck accident experience.
Your truck accident attorney will have experience working with local insurance companies and their attorneys on prior cases. Further, your experienced truck accident attorney knows what the norms are in the field and what similar accidents and injuries resulted in for prior clients.
This knowledge can be especially valuable to you in coming to a quick and complete settlement offer. The insurance companies and their attorneys know that your attorney can judge what is fair and what is not, and they will waste less time trying to low-ball you on settlement offers to take advantage of your situation to pay you less.
You Can Afford a Truck Accident Attorney
A common worry people have before reaching out to an attorney is that they cannot afford them. You can always ask an attorney how much they charge or how they will collect payment before they take your case. You will not owe an attorney anything unless and until you have discussed options and you have agreed to the terms of representation.
There is no risk in reaching out to an attorney, while there is a very real risk that you will not receive the compensation you deserve without the assistance of an attorney. While some attorneys work only for an hourly rate, when it comes to personal injuries and truck accidents, you should not have to pay anything out-of-pocket for their representation.
Personal injury attorneys working car and truck accidents should take your case on a "contingency" basis that involves no up-front cost. When an attorney takes a case on contingency, that attorney only collects payment if they win your case for you, and then they will take a percentage of the settlement or award that they get for you.
This means that the more you make, the more your attorney makes, so you can rest assured that your attorney will do their best to generate the highest possible settlement for your accident.
It has been a pleasure and blessing to have Feingold and Posner represent my family. They always kept me updated on our case. The staff was excellent they always got back to me on questions I had. I highly recommend them and will continue to use them if needed.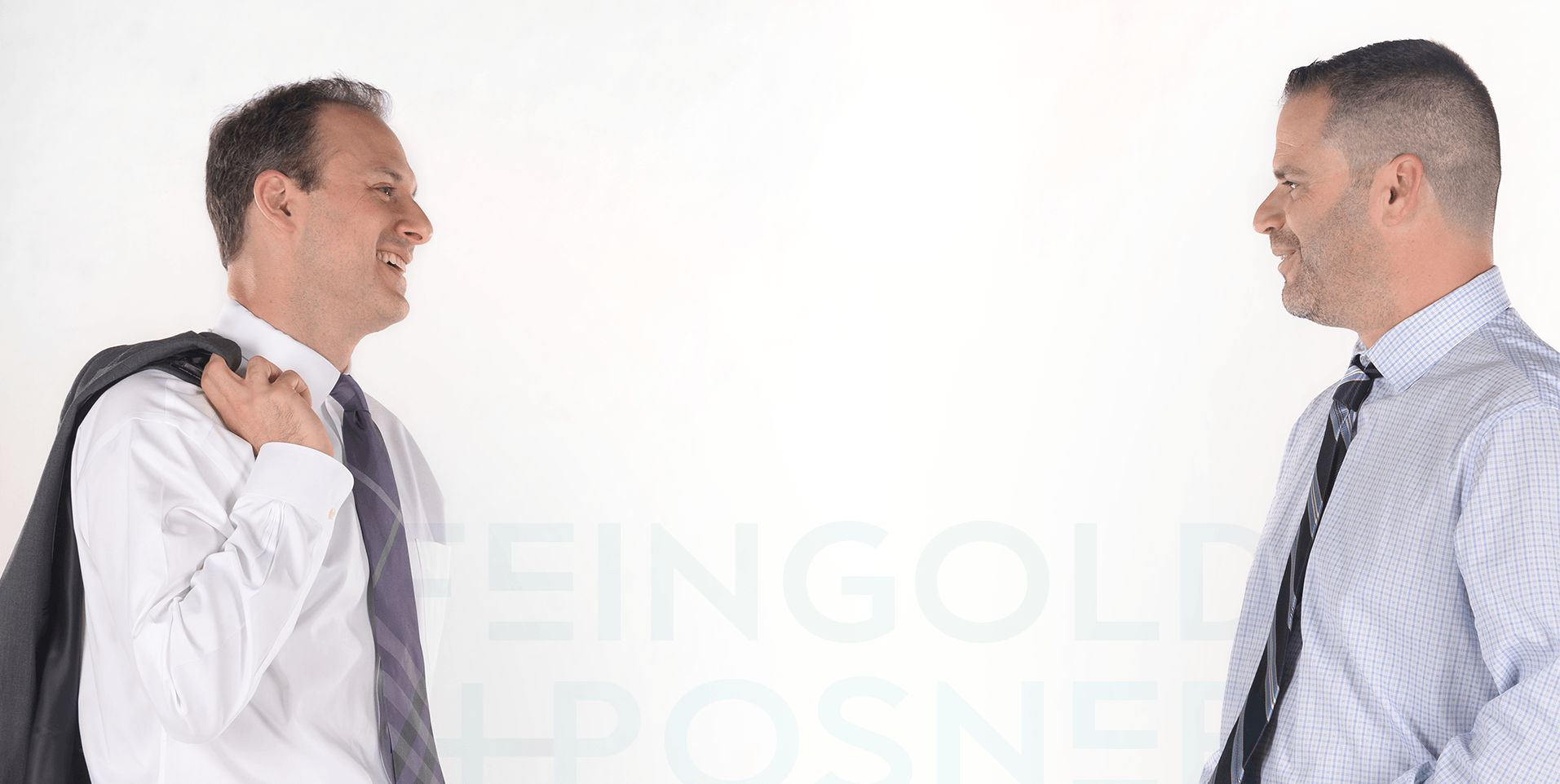 "These lawyers are not only very efficient, but caring as well. I would not hesitate to refer them to anyone."
MATTHEW T. / FORMER CLIENT