Rear-End Collisions
December 19, 2021
Rear-end car crashes are by far the most common type of car accident in Florida. Roughly one in every three car crashes nationwide is a rear-end car accident. Although these are common car crashes, there is nothing minor about them.
The driver whose car has crashed suffers nearly the same effect as a head-on crash. The hit driver can also experience a significant injury when one car rear-ends another. If you have suffered an injury in a rear-end car accident, you should get both medical and legal help immediately.
These Crashes Are a Prime Example of Negligence
Rear-end car crashes are a type of accident that clearly should not happen if both drivers exercised a reasonable amount of care. The fact that one car rams into the back of another almost always means that one driver did something wrong.
Here are some of the common causes of rear-end car crashes:
One driver misjudges the amount of space between their car and the one in front of them.
A motorist is tailgating, not leaving themselves enough room to stop if necessary.
A driver is looking down and sending a text and does not see a stopped or slow car in front of them.
The brakes on the car fail, and the driver cannot stop when they do not hit the brakes.
A motorist simply is careless or uses poor judgment.
South Florida Rain Storms Can Lead to Rear-End Crashes
Another major risk in Southern Florida raises the likelihood of rear-end crashes. Our area sees more than its share of rain, including sudden storms. These deluges make the road extremely slippery, especially when it first rains. Drivers need to go extra slowly and allow additional space between them and the car in front of them. Many rear-end crashes happen when people do not take extra caution in wet conditions.
Drivers on Their Cell Phones Rear-End Other Drivers
In addition, distracted driving has raised the risk of rear-end crashes. In the few seconds when a driver is looking away at their phone, the car can travel the length of a football field. Your life can change in an instant out of nowhere because the driver behind you is on their phone, sending a text, or checking social media. Inattentive drivers are more common these days since cell phones have become part of daily life. They are partially to blame for an uptick in the number of car accidents over the past decade.
Rear-End Car Crashes Cause Whiplash
One of the most common injuries in a rear-end accident is whiplash. This is an injury that many people discount. The name of it does not accurately capture its severity. While some cases of whiplash can be minor, many of these injuries will leave lifelong impacts. Whiplash injuries can worsen over time if you do not treat them promptly.
In a rear-end accident, assuming that you didn't hit someone else, it usually occurs when you are stationary or traveling at a slower speed. The hit unleashes energy that causes your head to snap forward and backward suddenly. The impact has caused sudden acceleration that affects your head and neck more than anything else.
Whiplash Injuries Are Much More Severe Than They Sound
Whiplash can harm anything from your back to your brain. When your head snaps forward, it can cause your brain to move within your skull. The brain stem can slam into the wall of the skull, damaging brain tissue. The impact can permanently kill brain tissue in crucial areas, causing a traumatic brain injury.
Some symptoms of a TBI can include:
Persistent headaches
Memory loss
Irritability
Depression
Speech loss
Many people cannot recover fully from a TBI, even after rehabilitation. They may never be the same again after a rear-end car crash.
Neck and Back Injuries From Rear-End Car Crashes
Rear-end car accidents can also injure your neck and back. In a serious rear-end crash, you are likely to suffer some type of cervical strain. This can be a lasting injury. In some cases, whiplash can even cause a spinal cord injury.
The above injuries are reasons why you cannot wait to get medical help after a rear-end car crash. You may not even think that you have suffered an injury at all. Meanwhile, the neck injury of the TBI is going undetected and getting worse. You can be losing valuable treatment time that can increase your chances of recovery and improve your prognosis.
When you submit an insurance claim, you will need to provide both evidence that establishes liability and your damages. Your financial compensation depends on both your property damage and your physical injuries. Therefore, medical records are vital to your claim. Without them, you cannot collect compensation.
Call Us Today To Schedule A Free Personal Injury Consultation
954-807-4665
You Must Get Prompt Medical Care After a Rear-End Car Crash
In addition, delaying medical care allows the insurance company to question what you have done to mitigate your damages. If they think that you have waited to get medical care, they may try to pin the blame for your condition on you or claim that your injury happened some other way.
Do not fall into the trap of thinking that a rear-end accident is so minor that you do not need an attorney to handle your claim. If you have suffered any sort of injury, your case is not minor. That is what the insurance company wants you to believe so they can get out of paying you. You have a viable insurance claim when you have been in a rear-end accident, and it was someone else's fault.
The Presumption of Fault in a Rear-End Crash Is Not Absolute
The usual rule is that there is a presumption that the car from behind who has hit the lead car is to blame for the accident. However, this is not an ironclad rule. There may be several reasons why the car in front can be to blame. If the front car stops suddenly or cuts off the rear car, they may be responsible.
Liability may not be as clear-cut as you believe. However, the driver of the rear car will have more of an uphill battle to obtain financial compensation. Nonetheless, you can make a case for compensation if you can show that the car in front of you left you with no other alternative than to hit it.
You Need a Lawyer After a Rear-End Accident
Even though liability may seem more clear-cut in a rear-end crash, a lawyer must still investigate the accident thoroughly. If you were in the car that another car rear-ended, the insurance company might blame the accident on you in some way. They may try to make the crash partly your fault, so they can reduce the amount of money that they pay you.
When that happens, your lawyer must push back. Even if you think what happened was as plain as day, you can expect the insurance company to try to take issue with your driving.
Even if you are partially at fault for a rear-end accident, you can still get a check for your injuries. The key is how much to blame that you were for the accident. The amount of responsibility will reduce the financial recovery that you bear for the crash. Even a small amount of blame assigned to you can take valuable money out of your pocket. Therefore, having a lawyer fighting for you is a must. Otherwise, you may have a hard time countering any suggestions that you may be partially or completely at fault.
While Florida has a no-fault law for car crashes, you will need the other driver's insurance to contribute when your damages exceed the limits. This is often the case in a serious rear-end car accident. This is almost always the case when you are injured because the $10,000 amount of coverage does not even come close to covering your accident damages. Therefore, proving liability is critically important.
In addition, determining liability in a car accident is only a part of the legal process. Just because the insurance company accepts responsibility does not mean that they are committed to paying you what you deserve.
The Steps of the Insurance Claim Process
In general, the insurance claims process involves:
Reporting the accident to the insurance company
Gathering the evidence necessary to support your claim
Presenting your claim to the insurance company
Negotiating the amount of compensation with the insurance company
Of course, there is nothing that obligates you to deal with the insurance company and go through the claims process. You can always file a lawsuit, although the claims route will get you the money that you need more quickly. Lawsuits will take years to go through the system, but they are a necessity when the insurance company either denies your claim or will not pay you the compensation that you deserve.
Your Damages in a Rear-End Car Crash
A common question is how much the average rear-end car accident settlement is. A good way to approach this question is that you should focus more on your own damages than the average. Your damages from a rear-end accident can be considerable. Head and neck injuries can be costly to treat, and you may need months or years of treatment. If you have suffered a brain injury, the costs to treat it can reach six figures.
When a car crash injures you, once you prove liability, you may recover:
Lost wages
Pain and suffering
Medical bills
Emotional distress
Loss of enjoyment of life
When you suffer a debilitating and lingering injury, such as the damage caused by whiplash, you may be entitled to far more than you think. At the same time, the insurance company is trying to downplay the severity of your injury because they do not want to write you a check for your full damages.
Getting the Right Amount of Money Can Take Time
You can expect that it can take some time, effort, and skill to get payment from the insurance company. They are more than happy to write a quick check if it saves them money. Otherwise, you need an attorney in your corner who knows their game and how to deal with it. Everything starts with knowing the proper value of your claim.
This is not anything that you can know on your own, leaving you vulnerable if you try to handle your claim on your own. In that case, you may end up settling for less and then realizing that you needed more money.
In any car accident case, you may reach a critical stage of the legal process where you must decide whether to settle your case or go to trial. You may be dealing with a stubborn or unreasonable insurance company that is intentionally trying to drag things out to wear you down.
Hiring an experienced and aggressive lawyer shows the insurance company that you mean business. You will get practical and commonsense advice designed to maximize your financial recovery. While very few personal injury cases go to trial, you want a lawyer who will maintain that option for you if necessary, and who is not afraid to turn up the heat on the insurance company. They need to deal with it when they make your life harder.
Call Us Today To Schedule A Free Personal Injury Consultation
954-807-4665
If you or a loved one have suffered an injury in a rear-end car crash or any other car accident, a knowledgeable attorney is critically important.
Otherwise, you may jeopardize your ability to receive financial compensation. Get your free initial consultation today, and remember that you owe your lawyer nothing unless you win your case.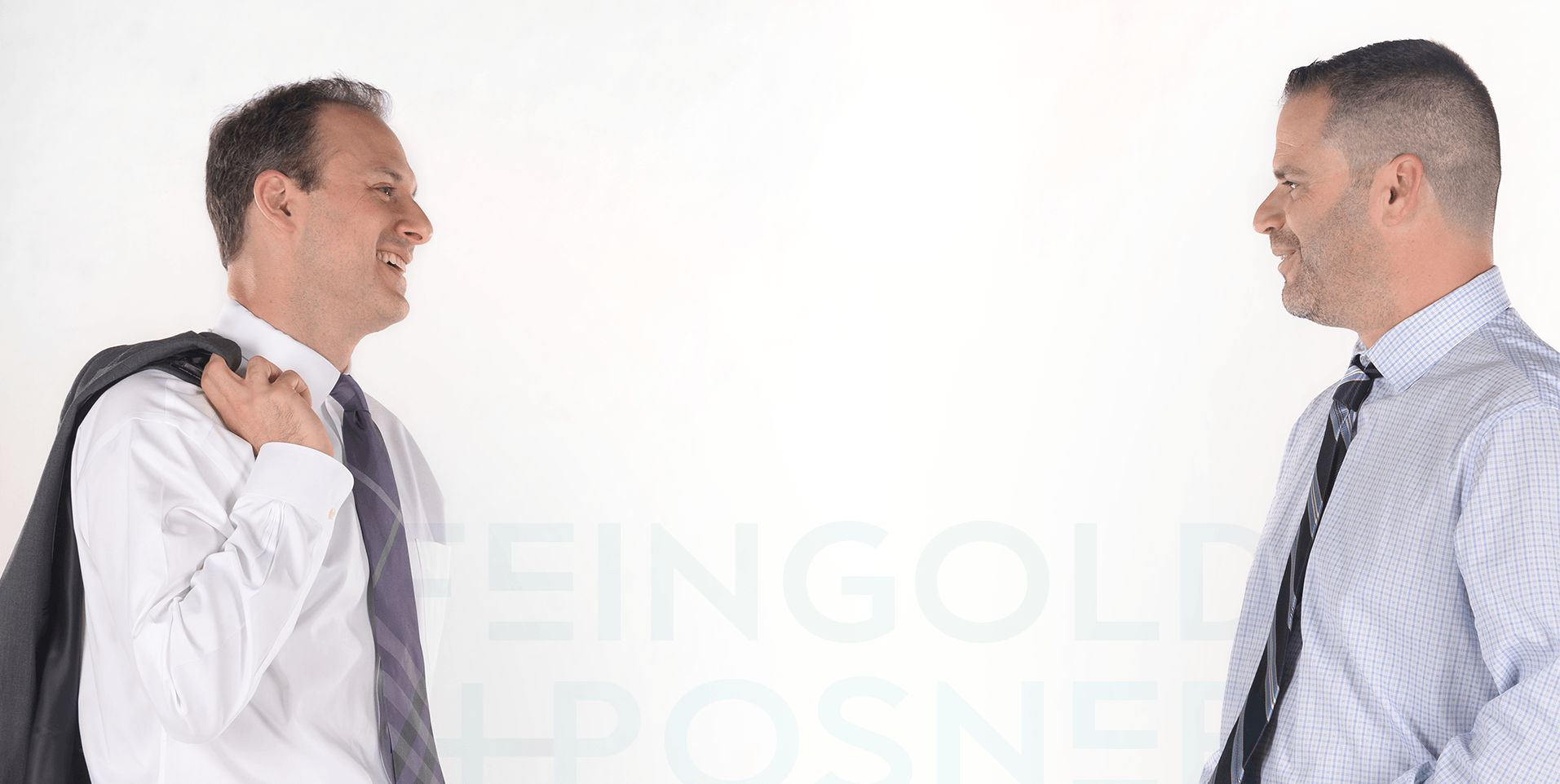 "These lawyers are not only very efficient, but caring as well. I would not hesitate to refer them to anyone."
MATTHEW T. / FORMER CLIENT