You Might Want To Call A Lawyer After These Types Of Injuries
September 30, 2021
Suffering accidental injuries when someone else was to blame can entitle you to damages to make you whole again. This means that you can seek compensation that puts you in a position as though the injury never happened. This can include seeking damages for medical bills, lost income, pain and suffering, and future losses, depending on the severity of your injuries.
For some people with catastrophic injuries, no amount of money will ever take their injuries or resulting disabilities away. However, enough financial compensation can at least relieve stress about medical bills and lost income and ensure that you have the funds to cover your future healthcare and related expenses.
Below are some common types of injuries at issue in personal injury claims. No matter what type of injury you sustained, never wait to consult with a personal injury lawyer regarding your rights to compensation.
Neck And Back Injuries
Some of the most common injuries that result from accidents happen to the neck and back. Such injuries can result from direct trauma to the area, unnatural twisting or stretching of your body, a sudden jolt that whips your head back and forth, and more. Common causes include all types of traffic crashes, falls, and similar accidents.
Your neck and back work hard to support your head and trunk, and many injuries can occur:
Whiplash
Muscle and soft tissue sprains, strains, or tears
Dislocations
Herniated discs
Spinal fractures
After an accident, if you have soreness, stiffness, or numbness in parts of your neck or back, you might think it is "normal" to feel this way after a traumatic impact. You might assume that the problems will resolve over the next couple of days on their own, so you might not seek medical treatment right away.
However, feeling sore or stiff can indicate a more significant injury, as the severity of back or neck injuries following an accident can take some time to emerge. If you feel anything different from usual, you should go to the emergency room or urgent care. Medical professionals can perform imaging tests to identify whether you have a neck or back injury, and you can begin treatment right away.
Traumatic Brain Injury
A traumatic brain injury (TBI) can occur when you experience direct trauma to the head or a sharp jolt of the head. In either situation, your brain can hit the inside of your skull, causing damage to your brain tissue. TBIs can happen to any area of your brain, and the location of the injury will determine the specific types of symptoms you might experience.
Common causes of TBI include:
Motor vehicle collisions
Falls
Assaults
Participation in sports such as boxing or American football
Getting hit by falling objects
Explosions or other construction accidents
Product malfunctions
Even minor impacts to the head can damage the brain, so seek medical attention following any accident that involves a jolt or any degree of head trauma. While there are different degrees of brain injury, they are all serious conditions that require emergency care, and that can have lasting effects on your cognitive, physical, and behavioral functioning.
Fractures
Fractures, commonly called broken bones, can occur in a wide variety of accidents. They often result from car accidents, slip and fall accidents, bicycle accidents, pedestrian accidents, and other motor vehicle accidents. They can range in severity from painful hairline fractures that will eventually heal on their own to compound breaks that require surgery and other medical interventions.
When severe, fractures can leave victims with long-term adverse medical issues. For example, a serious fracture may leave a person with long-term scarring, limited range of motion, and even disfigurement. In many instances, victims also develop emotional and psychological issues that seriously impact their quality of life and mental health.
Some fracture victims need emergency surgery for infection prevention and to insert hardware to ensure the bone heals properly. Others might need surgery at a later date to repair disfigurement, which is common if you have a fractured cheekbone, jaw, nose, or skull.
All fractures need immediate medical care for the best prognosis. Often, you cannot use the affected body part for weeks or months, which can keep you out of work. Fractures can cause pain as well as significant financial losses, and you should contact a personal injury attorney about your legal options.
Spinal Cord Injury
Spinal cord injuries (SCIs) are among the most serious injuries that a person can sustain and survive. The spinal cord is a bundle of nerves that transmits electrical signals from the brain to the rest of the body, and these electrical signals are responsible for motor functions and sensations. As a result, when the spinal cord is damaged, it can have significant negative implications for a person's ability to use their body and quality of life.
Spinal cord injuries fall into two broad categories; incomplete and complete. In an incomplete spinal cord injury, the spinal cord suffers damage but can still transmit some signals between the brain and the rest of the body. As a result, incomplete spinal cord injuries typically involve issues like pain, loss of range of motion, muscle weakness, but victims still retain some function and sensation below the point of injury.
Complete spinal cord injuries entirely cut off communication between the brain and the part of the body below the injury. Complete spinal cord injuries usually completely paralyze people below the injury. Currently, there is no cure for complete spinal cord injuries, and victims typically do not regain function or feeling.
Unsurprisingly, spinal cord injuries often result in significant medical expenses, pain and suffering, and loss of quality of life. In fact, according to the Christopher and Dana Reeve Foundation, the estimated lifetime medical costs for a 25-year old person with high tetraplegia are more than $4.7 million – and that doesn't even account for lost income and other non-medical losses. Because of these potentially astronomical damages, SCI victims need an attorney to protect their rights as soon as possible.
Burns
Even a simple first-degree burn that you can treat at home can be highly painful, and more severe burns can be catastrophic and life-changing. You should always seek help from medical professionals immediately if you suffer a second-degree burn, which damages several layers of skin, or a third-degree burn, which damages all layers of skin and tissue underneath.
Burn victims might need to spend time in a burn center or the burn ward of a hospital for several reasons. First, burns need to be regularly and professionally cleaned, treated, and dressed for days or weeks before further treatment can begin. It is also critical for medical teams to actively prevent infections, which are common and life-threatening complications of burn injuries.
Once a medical team clears it, a burn victim can begin undergoing surgical procedures to repair the burn site. This often involves painful skin grafts, of which many might be necessary. Even with multiple skin grafts and plastic surgeries, many victims of severe burns still spend the rest of their lives with permanent scarring and disfigurement.
The pain of a burn injury, the extensive treatment needed, and permanent disfigurement can all cause serious mental and emotional effects in burn victims, as well. They often need psychological or psychiatric treatment as part of the recovery process. Burn victims should recover financially for all their extensive losses, including the pain and suffering they experienced.
Traumatic Amputations
Traumatic amputations occur when a person loses part of their body as a result of an accident. They can occur in a wide variety of incidents, including motor vehicle accidents, industrial accidents, workplace accidents, and construction accidents. In addition, in some cases, crush injuries will damage a body part so badly that doctors need to surgically remove it.
Losing a body part – even if successful reattachment is possible – is invariably an incredibly traumatic and painful experience. If you lose an entire limb, it can fundamentally change your life for the worse. You may need expensive prosthetics or mobility aids for the rest of your life. Even losing part of a finger can be devastating, particularly if you work with your hands or type for your work. Unsurprisingly, victims of traumatic amputations are often entitled to significant compensation from the party responsible for their accident.
Recovering Compensation For Your Injuries And Losses
Injuries can lead to:
Medical bills for past and future treatment
The wages you lost from missing work and will lose in the future
Physical and mental pain and suffering
Permanent disability and disfigurement
If someone else caused your accident, their insurance company should cover your losses. You should never expect to automatically receive a check in the mail, however, as obtaining the compensation you deserve requires proactive measures on your and your attorney's parts.
You should seek the right legal help and representation during this process to ensure that you receive the full compensation you deserve. Insurance companies will try to downplay your injuries and shortchange your settlement offers, but the right injury attorney will not let this happen. A lawyer should fight for the full compensation that you need to cover your losses, even if it means taking your personal injury case to court.
Do not wait to start the process by consulting with a personal injury law firm near you today.
Accidental Injury FAQs
Personal injury lawyers see potential clients with all types of accidental injuries, and they all have many questions. This is natural, as the time following an injury can be concerning and confusing for victims. Here are some of the common questions that attorneys might hear—to ask your specific questions, contact a personal injury law firm directly.
What kinds of injuries can I recover damages for?
You can recover damages for an injury that happened due to another party's negligence, such as another driver, a business owner, or a product manufacturer, among others. If you can prove that someone else was responsible for causing your injury, they should be liable for your losses, no matter what your specific type of injury was.
When should I contact a personal injury attorney after I suffer injuries?
If you have injuries following an accident, first focus on your physical well-being. Make sure that you get a prompt diagnosis, which is critical for your prognosis as well as your injury claim. Then, follow your treatment plan as your doctor directs to ensure your recovery proceeds as it should.
Once your injuries are stable enough, it is then time to consult with a personal injury lawyer. You should never delay in doing so, as the longer you wait, the more challenging your claim might be. The law limits your time frame for filing a lawsuit, so if an injury lawsuit is necessary in your case, you should never wait to get representation from a personal injury lawyer.
What kind of injuries are common in car accidents?
Traffic crashes are a common cause of accidental injuries, and they can result in a wide range of injuries.
These accidents can lead to:
Concussions and TBIs
Back and neck injuries
Fractures
Dislocations
Many car crash victims discount their injuries, and it is important not to ignore any signs or symptoms of injuries following a crash.
Who is responsible if I suffer injuries on the job?
If you have a work-related injury, you should qualify for workers' compensation benefits, though these benefits might not cover all of your losses and expenses. If a third party was involved, you should discuss a possible negligence claim with a personal injury lawyer. While you cannot hold your employer liable for negligence, other parties should be accountable if their conduct caused your job-related injuries.
Discuss Your Injury With a Personal Injury Lawyer
Dealing with injuries is difficult enough, and it can be even more complicated when other parties are at fault. An attorney by your side can make the recovery period after an accident significantly easier. Your personal injury lawyer will know whether someone else should pay for your bills and how to seek the full compensation you deserve.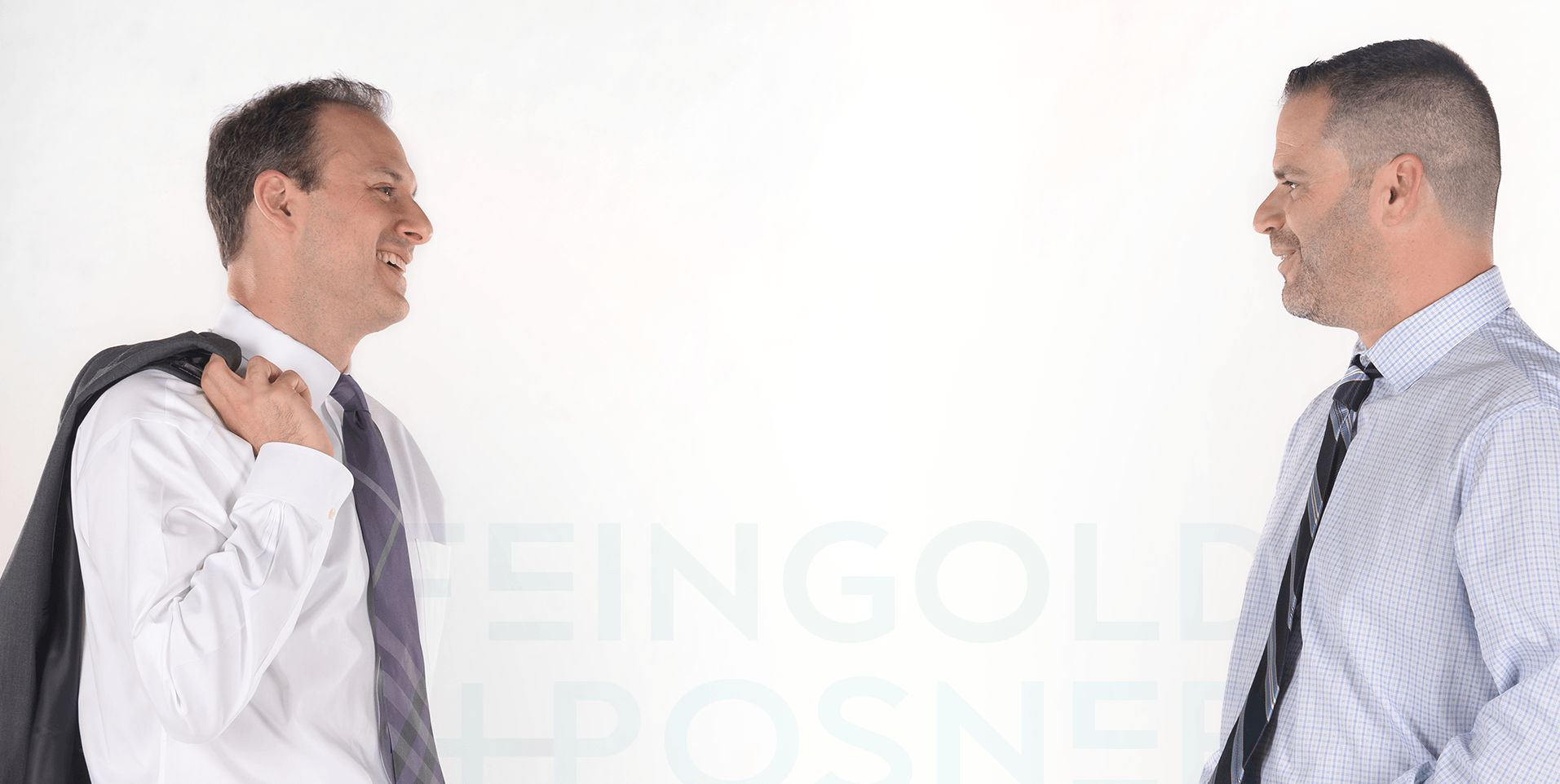 "These lawyers are not only very efficient, but caring as well. I would not hesitate to refer them to anyone."
MATTHEW T. / FORMER CLIENT