Who Is at Fault in a T-Bone Car Accident?
December 15, 2021
A T-bone accident happens when one car rams into the side of another car. These collisions are common at intersections when someone runs a red light or fails to yield for some reason.
When someone else causes a T-bone car accident, they should be liable for your losses, but how do you know when another driver is at fault? Generally, a driver is at fault when they are engaging in an activity on the road that the law prohibits or if they are being otherwise negligent or reckless.
Common reasons for this type of accident include drunk driving and distracted driving, which we'll discuss below, and when someone t-boned you because they were distracted or drunk, they will be liable to you for damages.
Knowing who is at fault in an accident will depend on what happened leading up to the crash and the evidence that is available for review. A car accident attorney knows how to measure your case's value and help you make the most of your compensation. Read on to learn more about how an attorney can help you determine who was at fault in your car accident and collect the full damages you are entitled to.
Distracted Drivers Are a Common Cause of T-Bone Accidents
One of the most common causes of accidents, in general, on the road in the modern environment is distracted driving. In the United States, 3,142 individuals died in a recent year from distracted driving. Distracted driving is engaging in any activity while driving that takes your attention away from the road. This can include texting or talking on your cell phone or smartphone while driving, using the in-dash radio, or even talking to passengers in the vehicle.
Distracted driving is a very common activity on the road, and some distracted drivers might miss a stop sign or red light and barrel through an intersection, crashing into the side of your vehicle in a T-bone. if another driver hit the side of your vehicle in a T-bone while they were engaging in distracted driving, they should be at fault for the accident, and they should cover your losses
How do you know if another driver was using their cell phone or paying attention to something else when they hit you? The answer to this is that you likely do not know for sure. When you are looking ahead and being a responsible driver, and another driver T-bones you from the side, it is not likely that you know first-hand what the driver was doing.
Some of the most significant and earliest benefits your car accident attorney provides to your case are their collection of evidence and determinations of liability. Your attorney will ask the right questions and request the right information to determine what the other driver was doing in the moments leading up to the accident.
You might not know how to issue a subpoena or an interrogatory to the opposing party that they must answer under oath, but your attorney does. By hiring an attorney for your car accident, you are making the decision to line up the advocacy you need to collect the evidence you require to collect the maximum amount of your damages.
Call Us Today To Schedule A Free Personal Injury Consultation
954-807-4665
Vicarious Liability in T-Bone Crashes
Even though a negligent driver might cause a T-bone crash, there might be other parties that share in the liability. These can include employers of drivers who cause crashes while they are on the job. When an employee is negligent and causes harm, their employer can also be liable under a legal principle called vicarious liability. Vicarious liability often applies to accidents involving truck drivers, delivery drivers, or others who regularly drive for a living.
It is important for your lawyer to determine when vicarious liability might apply in your case. An individual driver should have some liability coverage, but their policy limits might not even come close to covering the costs of a serious injury. Employers will have larger insurance policies, so chances are greater you can obtain compensation for all of your losses if you file a claim with a corporate policy.
Rideshare Companies
Rideshare drivers might be responsible for T-bones accidents, but they are not legally employees of rideshare companies, as they are independent contractors. Therefore, vicarious liability does not apply. However, this does not mean that rideshare companies never have responsibility for injuries when Uber or Lyft drivers cause T-bones.
If the rideshare driver was active on the app at the time of the crash, corporate policies should provide limited coverage. However, if the driver was on the way to pick up an accepted fare or had a passenger in the vehicle when the T-bone happened, state law requires Uber or Lyft to provide up to $1 million in coverage for injured victims.
Other Potential Fault
There are other reasons why T-bones can happen that can lead to the liability of less-common parties.
Imagine:
A pedestrian crosses the street at an intersection without a walk signal. You slam on your brakes at the last minute, causing a turning driver to hit the side of your car. The pedestrian might be liable for at least some of your losses.
A traffic signal malfunctions, and lights are green for traffic in perpendicular directions. In this case, the municipality or company responsible for traffic signal maintenance might be responsible.
You are driving on a rural highway when a car suddenly tries to cross over the highway, as the other driver underestimated your proximity or simply failed to pay attention.
Seeking Compensation for Your Losses
Once your lawyer determines fault, they can start the process of seeking compensation for the following losses as they apply in your case.
Medical Expenses
Medical bills are often a significant percentage of your losses, as many injuries require emergency care, hospitalization, surgeries, rehabilitative therapy, medication, and more. Recovering this compensation requires proof that your injuries and treatment stemmed from the crash, so you should receive a medical diagnosis as soon as possible.
You can seek compensation for your future medical expenses if your case is ongoing. You want a car accident attorney who has experience with these complex calculations.
Lost Income
You also deserve compensation for your lost earnings and your lost financial contribution to your household. This will include lost wages and work benefits that you missed out on during your recovery from the injury. If you were out of work for many months, your settlement should cover the lost wages and other benefits like accrued vacation and sick time.
You might not fully recover from your injury, and it can require ongoing rehabilitation, which can take time away from work or can impact your ability to return to the same work as before.
When you have ongoing rehabilitation that limits your ability to work full-time, you can be entitled to compensation for the lost earnings during your period of recovery. Some injuries lead to long term and potentially permanent disability, and this is also something that your settlement will cover.
When your injury makes it so that you cannot return to work at all or cannot return to a position that pays as well as before the injury, you are entitled to compensation to make up for the difference between what you can make and what you should have made were it not for the injury. This amount goes from the present through your working life.
Non-economic Losses
In addition to monetary losses, injuries from T-bone collisions can result in intangible – or non-economic – losses. These can include physical and mental pain and suffering, which can have a significant effect on your life following an injury. Because these losses do not stem from bills or receipts, they can be more challenging to calculate and prove. If you have permanent injuries, you can seek compensation for your life-long impairments or disfigurement.
Attorneys spend years in law school and then time learning specific areas of the law to offer you qualified representation. When you have someone who already acquired the experience and know-how needed to best calculate your damages and represent you in your case, it will allow you to focus on recovering from your injury while your attorney makes the most of your settlement and compensation for it.
Proving Your Damages
While your injury might cost you ten thousand dollars to treat at the hospital, if you cannot connect the injury to the accident in question, don't count on receiving compensation for the cost. Evidence is an essential part of your recovery from your injury, whether you are doing a settlement with an opposing insurance company out of court or suing the at-fault party in court. Without evidence, you cannot collect on anything, and this is where your attorney can be of particular value.
Without a medical opinion to determine the long-term impact of your injury, you will not have proof of how your symptoms might affect your life in the long-term. An occupational expert takes information from the medical expert to translate it to the workplace and measure the impact of your injury on your working ability. This is also a central component in accurately computing your damages in the long term.
Insurance Companies Offer Quick, Low Settlements in T-bone Cases
When you are going through the process of recovering for your damages from your T-bone accident, it is essential to remember that the insurance company does not work for you. Insurance companies and their claim specialists and attorneys work to deny or reduce whatever claims they can so they can increase their profit margins.
When you are working with the insurance company of the at-fault driver and their attorneys, their goal is not to make sure that you receive the full compensation for your injuries, but in fact, quite the opposite. By paying out as little as possible on approved claims and denying whichever ones they can, insurance companies pay out less, retain more money, and increase their profits.
After your accident, you might know how much your emergency medical bills were and how much in wages you missed out on before you returned to work. You might not know the full extent of your injuries, what you will need in terms of long-term treatment or rehabilitation, and whether or not a condition you experienced from the accident will worsen with time.
The settlement offer you get from the insurance company after your accident will generally seem like it covers all your immediate expenses but will rarely cover much in terms of your long-term costs.
Suppose you do not seek out additional medical opinions and also input from occupational experts. In that case, you might not know how your injury will impact your ability to work until it does, and you might then have to foot the bill.
Call Us Today To Schedule A Free Personal Injury Consultation
954-807-4665
Your Attorney Will Support the Best Possible Recovery from Your Accident
Having an attorney on your side as soon as possible after you receive emergency medical care for your accident can help to result in the best possible outcome of your case. Once you accept a settlement, you can't collect any more damages at a later time, so you want to always make sure that you consult with an experienced car accident attorney before signing any settlement agreement.
Your lawyer can help in the following ways – among others – following a T-bone accident:
Assessing whether another person or company should be liable for your losses
Identifying the necessary insurance claims to file, as there can be more than one depending on fault
Calculating your past and future damages, including both economic and non-economic losses
Handling all communications with insurance adjusters to make sure you don't accidentally say something that can jeopardize your claim or reduce your financial recovery
Carefully reviewing all settlement offers to assess whether one will cover your losses
Advise you when filing a personal injury lawsuit is appropriate to seek the amount you deserve
Handling the entire litigation process
The right lawyer will know how to handle the process and allow you to recover physically from your T-bone injuries whenever possible.
It has been a pleasure and blessing to have Feingold and Posner represent my family. They always kept me updated on our case. The staff was excellent they always got back to me on questions I had. I highly recommend them and will continue to use them if needed.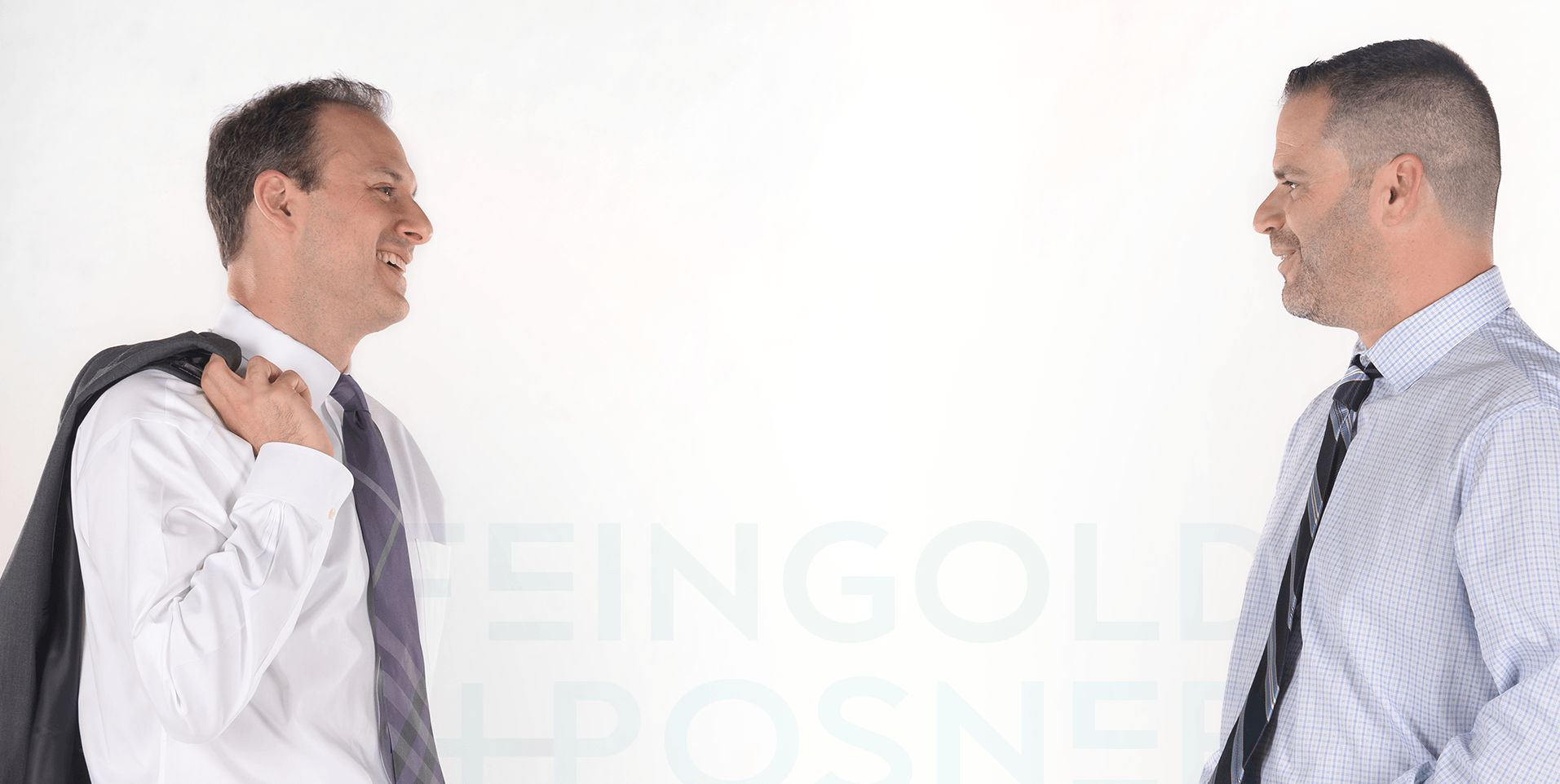 "These lawyers are not only very efficient, but caring as well. I would not hesitate to refer them to anyone."
MATTHEW T. / FORMER CLIENT