Plantation Motorcycle Accident Injuries
December 17, 2021
South Florida residents like to take to the open roads on their motorcycles to enjoy good weather year-round. Numerous inland bike routes near Plantation are perfect for a day out on the bike, including the Venus Backroad and the Indian River Lagoon.
There are nearly 600,000 motorcycles registered in Florida. This is second in the entire country, behind only California. The rate of motorcycle ownership in Florida is the highest out of all the large states.
Unfortunately, this also means that Florida is tops in the country in motorcycle accident fatalities. Between the high traffic and bad South Florida drivers, motorcyclists are less than safe when they go out for a day on the blacktop. Even if bikers take all reasonable precautions, they cannot control what others do behind the wheel. One wrong move behind the wheel and a motorcyclist can be looking at a lifetime of injury if they even survive the crash at all.
When it comes to accident injuries, you can only collect compensation for what you can prove, and it will take some effort to get the money. An experienced motorcycle accident lawyer will work on your behalf as you seek financial compensation.
Injuries in a Motorcycle Accident Are Far More Severe
Motorcycle accident injuries are far worse on average than those suffered in car crashes. There is an obvious reason for that. Cars at least provide a motorist with some degree of protection from impact. The car is engineered with crumple zones and airbags to give the driver as high of a chance as possible to survive the accident without severe injuries.
Motorcycles have no such protections. When a motorcyclist is involved in a crash, the chances are that they will fall off their bike and hit the ground. They only have a helmet and some safety gear, and neither of these is sufficient to protect them when they fall to the hard concrete. If another car hits them, the vehicle may directly impact their bodies.
There Is a Higher Chance of Injury in a Motorcycle Accident
There is a much greater chance that a motorcyclist will suffer a severe injury in a crash. According to the National Highway Transit Safety Administration, roughly 80 percent of motorcyclists will suffer injuries or death in crashes. This is far higher than the 25 to 30 percent ratio in car crashes.
Given the risks, one can understand exactly why so many bikers are injured. However, the chances are that most motorcyclists can safely enjoy their time on the roads. Nonetheless, if they have an accident, there will be consequences. One in every 100 motorcyclists is injured in crashes each year.
Call Us Today To Schedule A Free Personal Injury Consultation
954-807-4665
Common Injuries in a Motorcycle Accident
Motorcycle accident injuries are usually not minor.
Bikers may suffer some of the following injuries in crashes:
Bone fractures
Traumatic brain injuries
Neck and back injuries
Spinal cord injuries
Road rash
Internal injuries
It is not uncommon to suffer several of the above injuries at once. Crashes at high speed will cause catastrophic injuries. Surviving the initial crash is just the beginning. Accident victims will face a long road ahead of them that can entail surgeries, pain, and trauma.
Wearing a helmet can reduce the severity of an injury, but it does not prevent head or spinal cord injuries entirely. Just over 70 percent of motorcyclists nationally wear helmets, and it is the law in Florida.
According to NHTSA, motorcycle helmets reduce the risk of a fatal injury by 37 percent. Motorcycle helmets reduce economic costs of injuries by roughly $25 billion. However, you may still be eligible for financial compensation if you were not wearing a helmet (even though your check can be smaller).
Spinal Cord Injuries from a Motorcycle Accident
TBIs and spinal cord injuries are the most severe lasting impacts of motorcycle crashes. The impact when a biker or their passenger falls to the ground can cause broken vertebrae that can compress or cut the spinal cord.
More than one in ten motorcycle accidents involve some type of spinal cord injury. The most common SCI from a motorcycle accident is the thoracic spine. These injuries are when a bone in the spine collapses. Thoracic spine injuries commonly occur from falls, such as one that a biker experiences when an accident throws them from their motorcycle.
Traumatic Brain Injuries from a Motorcycle Accident
TBIs happen when the motorcyclist's head hits the ground. Many injured bikers will suffer severe injuries from which they will never fully recover. Even one in every seven helmeted bikers will sustain a TBI, although helmet use can reduce the severity of the injury. These injuries can range from more minor concussions to more severe TBIs that can cost the accident victim their memory or ability to speak or function.
Although treatment of TBIs and spinal cord injuries have improved, there is a chance that the accident victim can never regain the life that they had before the crash.
TBIs often require immediate surgery to reduce the swelling and pressure on the brain. This is followed by prolonged rehabilitation so that the accident victim can regain some function. Many people do not recover from a TBI. They may need to learn to live their life as best as they can with the injury.
Motorcycle Accident Settlements Are Higher Because Injuries Are More Severe
There is a reason why motorcycle accident settlements tend to be far higher than those from car crashes. The injuries tend to be a lot more severe. People often ask about the average motorcycle settlement. We do not like to give an exact number because the factors in each case stand on their own, but we will say that the average settlement reaches into the six figures.
Since motorcycle accident injuries are more severe, it follows that they cost far more to treat. For example, the cost of treatment for moderate TBIs can reach $100,000. More severe TBIs will have lifetime costs that top $3 million. Spinal cord injuries impose similarly high costs of treatment that are between $1-5 million. These are just the costs of care. Other damages will stretch far beyond that.
Other Damages from Your Motorcycle Accident Injuries
Medical costs are just one part of your motorcycle accident settlement. They will form the basis for a large part of your award. You are also entitled to money for everything else that you have gone through and lost because of the accident. This starts with the money that you would have earned had you never been injured.
One of the major costs associated with motorcycle accident injuries is pain and suffering. You can also collect compensation for the experience that you have had to endure after the accident. Pain and suffering include both your physical and emotional pain.
For example, you may experience anxiety and depression from the accident. You may not sleep because of worry and physical pain. This is all part of your settlement—the more severe your injury, the higher your pain and suffering compensation. Of course, the insurance company will always try to downplay the severity of your injury to minimize the amount of the settlement.
Seek Medical Help as Soon as Possible
There is a fine line when you are trying to recover financial compensation for your motorcycle accident injuries. Many lawyers will try to rush you into filing a claim because of the statute of limitations. This fails to take into account that you need to know the full extent of your injuries before you file a claim, meaning that you have to reach the point of maximum medical improvement before you seek compensation. Otherwise, you cannot present a clear picture of your injuries.
The important thing is to begin the process of diagnosing and treating your motorcycle accident injuries as soon as possible. Not only do you need treatment to get yourself on the road to recovery, but you need it to file your claim. The insurance company wants to see that you are doing everything possible to get better from your injuries. They do not like inaction, and they will use it as an excuse to cut your payment.
In addition, an insurance company or a jury will also need to see the diagnosis of your injuries on paper in front of them before they consider paying. They require that you prove not only your entitlement to damages but also the damages themselves. Your medical diagnosis will form the basis for your entire claim. You will need to back up any claim based on the fact that you cannot work or your pain and suffering with medical records.
Recovering Full Payment for Your Injuries
A six-figure settlement is not always good news in your motorcycle accident case. It will be bad news if you suffered seven figures worth of damage. What is a good settlement is all relative. The key is to recover the full value of your damages. If you lose the ability to work, a settlement that pays you less than you need will not do you much good.
While insurance companies must pay for the damage that their policyholder causes, they are not exactly lining up to pay people. Settlements come out of their large investment portfolios. The less they pay you, the more that they have in the stock market, earning even more money.
Here are some of the tricks that an insurance company may use after a motorcycle accident to keep from paying you what you deserve:
Undervaluing key parts of your case, such as lost wages and pain and suffering, so they can underpay you
Making lowball offers for a fraction of your case's value to see what you will accept or to try to wear you down
Requesting more paperwork and evidence of your injuries than is necessary to slow down your case
Dragging things out by not diligently handling your case and moving it forward promptly
Surveilling you to make sure that you are as injured as you said in your claim
How the Insurance Claims or Legal Process Unfolds
There are two parts to the process of obtaining financial compensation. The first is determining the liability for the accident. Even though Florida has no-fault insurance, this coverage is limited, and you need compensation for lost wages and pain and suffering.
Here, you may need to fend off accusations from the insurance company that you were partially or completely at fault for your injuries. If you were not wearing a helmet, the insurance company will likely come after you with full force.
The next part of the compensation process is negotiating the amount of your settlement. This takes time, especially when you are dealing with higher damage amounts. The larger the claim, the longer you can expect for it to take. The legal process does not happen overnight, and it requires patience.
You always have the option of filing a lawsuit for your motorcycle accident injuries. A court case does not automatically lock you into a jury trial. You can continue to negotiate a possible settlement so long as your case is pending. In fact, that happens in most cases. A lawsuit can be a way of showing an insurance company that you mean business when they will not make a reasonable settlement offer.
Call Us Today To Schedule A Free Personal Injury Consultation
954-807-4665
Call a Motorcycle Accident Lawyer
Make your first call after you or a loved one has suffered an injury in a motorcycle accident to an experienced motorcycle accident lawyer with a long track record of helping people like you get the money that they deserve when someone else caused their accident. You want someone who can handle all the details of your claims, standing up to insurance companies when they try to save money at your expense.
If you don't know about your rights and options and feel overwhelmed by your injuries, a motorcycle accident lawyer will only make things easier for you. Reach out to one today.
It has been a pleasure and blessing to have Feingold and Posner represent my family. They always kept me updated on our case. The staff was excellent they always got back to me on questions I had. I highly recommend them and will continue to use them if needed.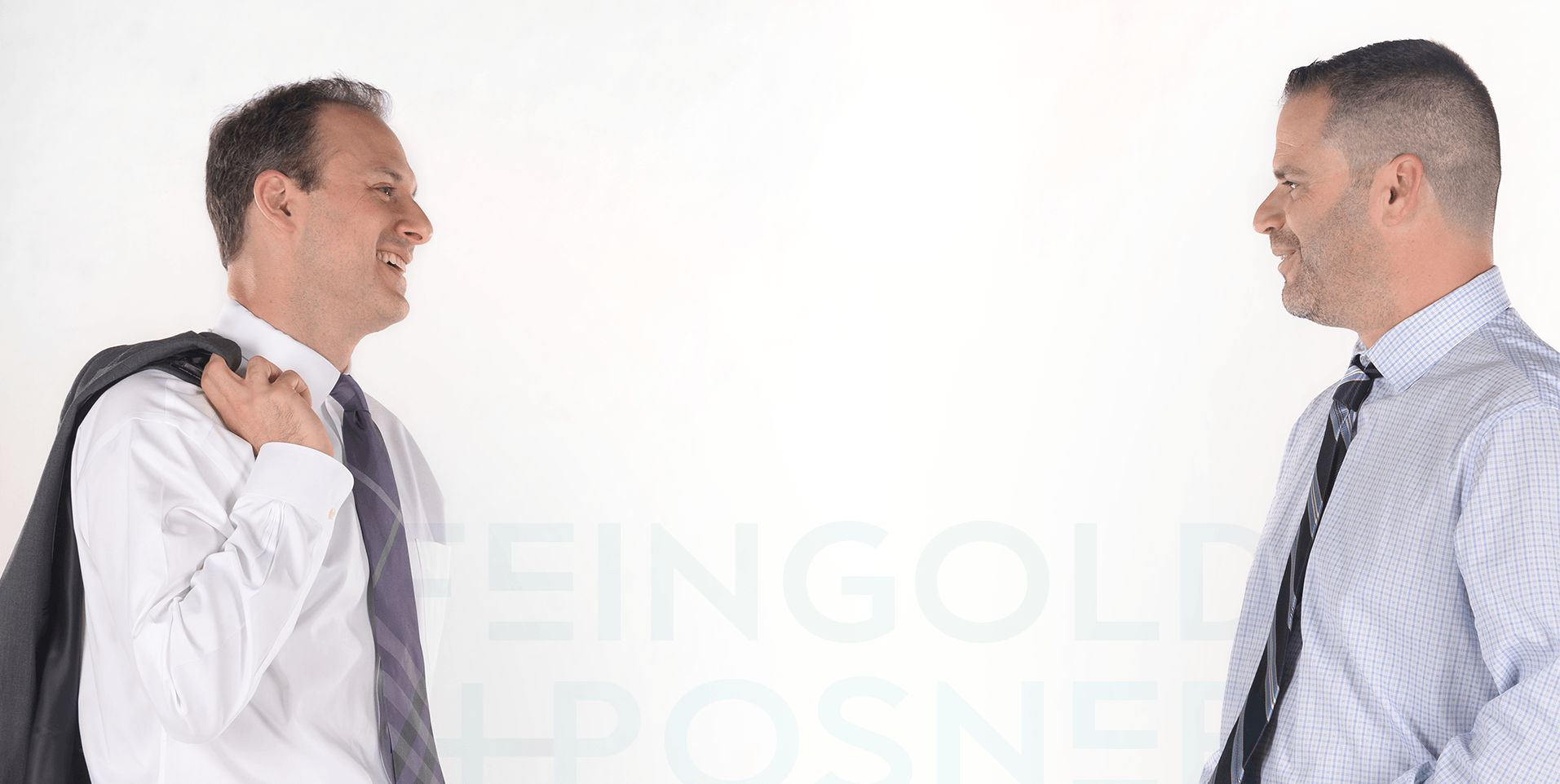 "These lawyers are not only very efficient, but caring as well. I would not hesitate to refer them to anyone."
MATTHEW T. / FORMER CLIENT